I had the privilege of participating in my very first Relay For Life in 2007 as a member of the Parrot Heads of the Triad, a civic organization made up of avid Jimmy Buffett fans. We gathered in High Point, NC for an overnight event filled with celebrations, remembrances, and the drive to fight back! All participants shared one common bond… to find a cure for cancer.
Five years have passed since that first Relay. In those five years, I feel like 20 years of changes have taken place. Relay For Life of High Point changed locations and times. (I enjoyed walking overnight, and they now choose to hold their event from noon until midnight.) That same year, I was contacted to walk in an impromptu Extreme Relay For Life for the local Extreme Makeover: Home Edition new home recipient, Tricia Creasey. That cold, rainy night in November, I was reminded that Davidson County was "home" and that I should join its chapter from that point forward. Within two months, I had not only transitioned over to Relay For Life of Davidson Co. but I had formed a team, joined the planning committee, and was asked to be the Publicity chair. I recruited new committee members, helped develop new teams, earned awards for my marketing and fundraising efforts, endured devastating losses of Relay family members to this terrible disease, taken a job at the local cancer center, and eventually stepped down in my volunteer leadership roles.
I questioned if my heart was still in this battle. Five emotional years will take a toll on even the most passionate advocate. I just wasn't sure I could handle another Relay For Life. Shortly after making the decision that I was finished with this chapter of my life, my friend/neighbor – Gina – told me that she was interested in putting a team together. She had filled my position as Publicity Chair (wonderfully, I might add) and wanted to see what she could do with fundraising. I offered to be a silent team member to help get her team started. Little did I know how that decision would change my life.
About a month after our conversation, Gina was invited to be a member of the previous year's up-and-coming super team, BHLs – Team 217. She accepted and encouraged me to join as well. I declined at first. After all, I was only planning to be a silent teammate. If she wasn't going to form her own team, I wasn't needed. But after meeting with co-captain, Rebecca Sink, at her home one afternoon… I realized that I needed to celebrate my 5th Anniversary with her team.
BHLs – Team 217 was formed in 2011 by Rebecca and her friend, Kara Cody. One of Rebecca's best friends, Jenny, had been diagnosed with bladder cancer the previous year, and Rebecca was determined to share Jenny's story while fighting for a cure. The team was named BHLs, taken from the Hillshire Farms commercial for Beef Hot Link, and Team 217, from a number that both Rebecca and Jenny oddly loved.
The team had a great first year. They raised over $5000 and were ranked in the Top 10 as an All-Star Fundraising Team for Davidson County. This year, I am completely blown away at the growth of this team. Countless new member have joined me in becoming a BHL in 2012. Rebecca's personal total alone exceeds the teams entire total from the previous year. The team is currently ranked in first place for fundraising, having exceeded our $17,000 goal. These guys and gals have more determination, more passion, and more hope than any other team I've seen in my five years with Relay For Life. There is something unbelievably special about this group. I am honored to be a BHL, I am humbled to be among such selfless souls, and I am blessed to call them all friends.
What makes BHLs – Team 217 stand out in the endless sea of inspiring teams that make up Relay For Life of Davidson County? We have an eclectic mix of teammates. You may even call us a bit eccentric. We are a force to be reckoned with. We are convinced a cure will be found. And we aren't afraid to show our true colors!! One of the many reasons I adore the BHLs is because we will stop at no expense to spread cancer awareness. As we quickly approach this weekend's event, cars are painted, hair is dyed, and nails are manicured in every shade of purple… hoping that someone, somewhere will stop and ask us what it all means.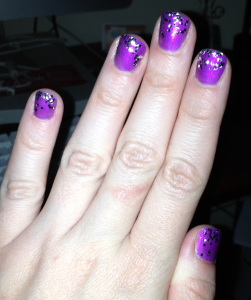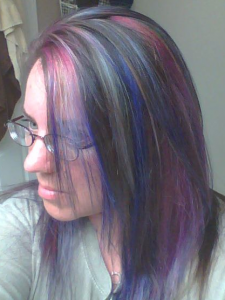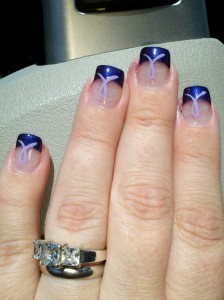 I would like to invite all of you to attend a Relay For Life event in your area. To locate an event, click here.
The Davidson County chapter will hold our Relay this weekend, May 18-19, 2012 in Lexington, North Carolina. Ceremonies begin at 6pm. There will be entertainment, food, games, raffles, and more. It is truly one of the most incredible celebrations you will ever experience.
If you are unable to attend, but would like to see an end to cancer, please consider supporting our fight for a cure. Click here to make a monetary contribution. No donation is too small.
It is about being a community that takes up the fight! Together, we we can create a world with more birthdays… and no cancer!!