Today is the Friday before the biggest game in professional [American] football. Typically, I would be decked out in my favorite team's colors… not just because they've been in the Super Bowl the last two years, but because every Friday is Blue Friday to a 12. (Go Hawks!) This year, though, I'm wearing a different color and it has absolutely nothing to do with football.
While my Facebook feed has been inundated with turquoise and black or orange and blue today, a group of my friends and I decided to wear red. February 5, 2016 is National Wear Red Day – a campaign started by the American Heart Association to raise awareness for heart disease; particularly heart disease in women.
I spent the morning at the Go Red for Women breakfast, hosted by American Heart Association – Triad. I was invited by someone special, my friend Amy, who was named a 2016 Go Red Ambassador for Forsyth County after being nominated by Coach Stacie at Fleet Feet.
Those of you who are familiar with me know that I joined my local Fleet Feet in 2013 as a participant, and now am a Certified Mentor with them. I applied to become a mentor after I had the best experience with my own mentor during my first training program. The experience changed my life, and I promised myself that one day… I would pay it forward.
Amy's story is pretty incredible. She is a spunky soul with an infectious smile. It is hard to believe that she was once so depressed that she couldn't get out of bed. I met Amy during Fleet Feet's Fall 2015 No Boundaries training program. I couldn't help but to see a little bit of me in her. She doubted herself because, like me, she had zero experience running when she joined No Boundaries. I wasn't sure what my body was capable of when I began running – I was 40lbs overweight with bad knees – and I knew she didn't know what her body could do either. (She actually told me that she had never exercised before; she had not even played sports!) I remember struggling in the beginning, and I remember the turning point for me… the day that I accepted the title of "runner" …and I knew this was my opportunity to share my story with Amy in hopes of her having a similar a-ha moment. She would say at the beginning of practice, "I think I will walk today." and I would reply, "No! Run with me." What I didn't realize during our months of training together was that it would all lead to today.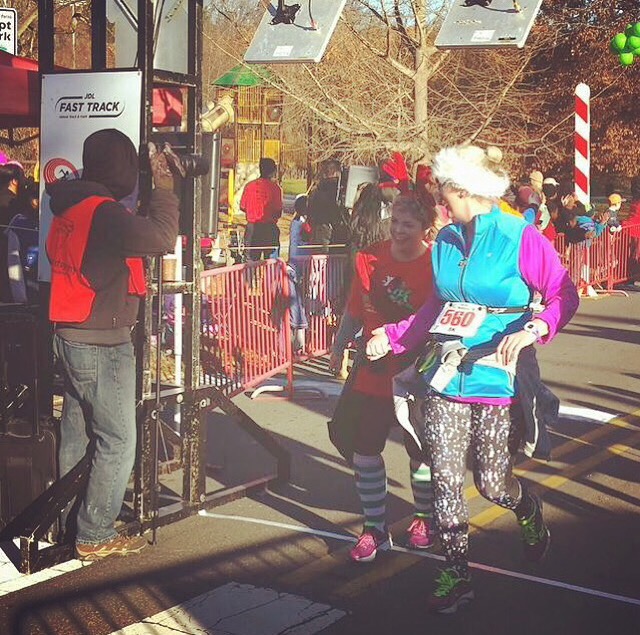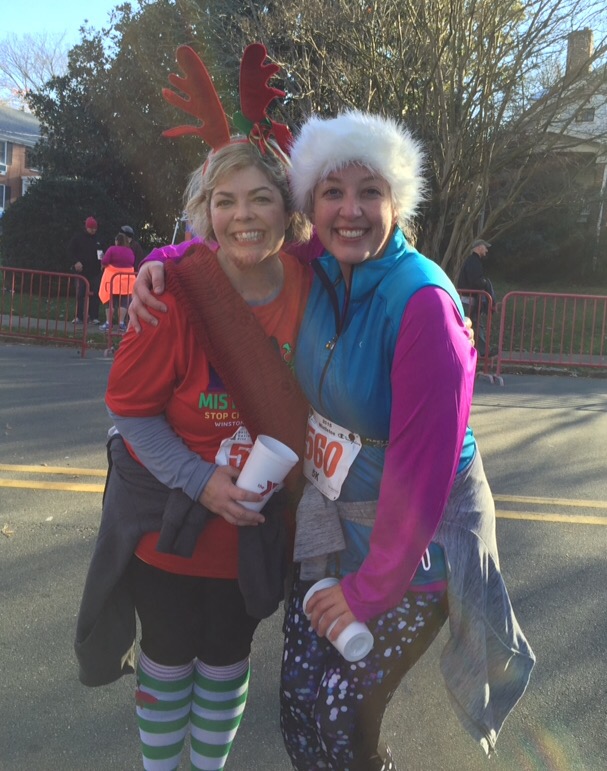 Heart disease has taken a toll on my family most of my life. My maternal grandfather died of a massive heart attack in his 50s, before I was born. My dad had two open heart surgeries only six months apart. My brother is an aortic dissection and stroke survivor. Many other family members suffer with cardiovascular problems like CHF or hypertension. And heart disease scares the daylights out of me. I worry for my family, and I worry for my own health.
Between family history, my turning 40 this year, and hearing the statistics this morning that 1 in 3 women die from heart disease, today has hit me pretty hard. Yes, today is a day of celebrating. I love that Amy has drastically reduced her risks of heart disease and can encourage others to do the same. I am beyond grateful that God allowed my father and brother to overcome their heart surgeries so that they can have opportunities to be advocates for heart health. But today is also a day of awakening. Ladies, we need to fight this together. Heart disease is 80% curable with proper diet, exercise, and screenings.
I am not here to body shame. I have been overweight my entire life and know all about the struggles with self-esteem. What I can't reiterate enough, though, is that we have to get past our appearance! Let me explain. I get what people mean when they say to be confident no matter your shape. I understand that many factors play into obesity. But this isn't about our outer image. This isn't about looking good in your skinny jeans. This is about health! I don't care what body type you are, you can still be at risk of heart disease. You can be a size 2 and appear healthy, but suffer from high blood pressure or high cholesterol. So please, no matter how confident you are in how you look, don't neglect your heart health.
A woman's heart is such an important organ. Think about it; not only is it the engine that runs our body but it's the place that stores our dreams, often the director of our decisions, and the generator for all of the love that we give and receive. We have to treasure it! We need to treat it well so that we can change these alarming statistics.
Diet and exercise can seem overwhelming and time consuming, but heart health is quite simple. Follow these basic steps to help reduce your risk of heart disease:
1. Move. The goal is 4-5 times a week for 30 minutes. Can't afford a gym membership or devote time to a Zumba class? No worries! All you have to do is take a brisk walk. If your schedule doesn't allow 30 minutes, break it into two 15 minute walks. Take the stairs. Park at the back of the lot when you're shopping. Just start moving more!
2. Make better choices with food. Don't consider it a diet, just be conscious of what you're putting in your body. Healthy food actually does taste good! You've seen some of my recipes here on my blog. They're quick and easy. Eat more veggies. They're a great substitution for chips. Want something sweet? Try fruit instead of cookies. Select food options with as little ingredients as possible. Watch your sodium intake. Drink plenty of water. Small changes make a big difference, so don't feel like you have to take drastic measures.
3. Monitor your health. Seeing your doctor regularly allows them to monitor your weight, blood pressure, cholesterol, blood sugar levels, etc. and assist you with keeping everything in check.
4. No smoking! If you smoke and need help stopping, there are many avenues available. You won't have to attempt to stop alone.
Easy enough, right? Let's promise to take heart disease seriously. Together we can encourage one another to take steps toward a healthier lifestyle. To learn more about heart health, check out the American Heart Association website here. To learn more about Amy, click here. If you need encouragement, want to congratulate Amy on her journey, or just want to chat, please comment below. We would love to hear from you.
Congratulations, Amy!