Normally, the Saturday after Thanksgiving is spent decorating my parents' home for Christmas. I've had the pleasure of doing this for the past 13 years, since my mother's disability prevents her from doing it herself. I say pleasure lightly. Her old artifical tree (a massive, unlit 7.5″ limb-by-limb construction) used to push me to cursing. There was nothing joyous about unboxing that beast. Three years ago, we gifted that tree to a friend — hey, she knew I loathed it but decided to take it anyway — and I purchased a 6.5′ prelit tree. I can't say that I regret getting rid of the giant, mean tree… but I also can't say I'm pleased with the new one. Although prelit trees come in three sections, and are so much easier to assemble, this particular one is not as full. Okay, it isn't full at all. So I have to fill it with one million ornaments, three dozen candy canes, and an undisclosed number of red bows. It tries my patience to decorate, but it is a gorgeous tree when I'm finished. This year, I decorated for my parents and myself today. It's a week later… but you'll soon see why I couldn't do it all after Thanksgiving.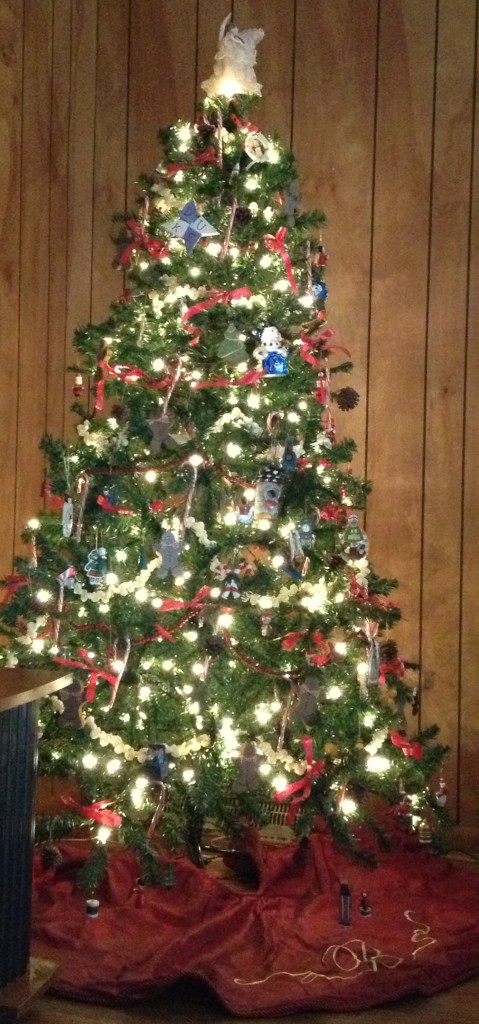 Mom likes the feel of a traditional (or old-timey, as she would say) Christmas tree. Her tree is topped with an angel that she purchased from a general store just outside Asheville, NC. I found artificial popcorn strands and wooden cranberry strands for garland. The ornaments are primarily hand-painted, wooden ones… although there are some paper, salt dough, and glass ones. The candy canes are edible, and the red bows were hand-tied by my mom, grandma, and myself a loooooong time ago. 🙂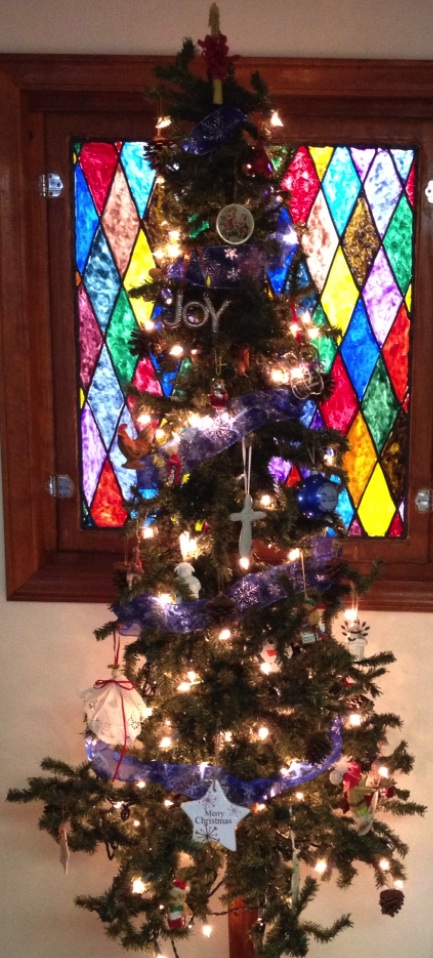 Remember the skinny trees, popular circa 2006. I think that was the only year they seemed to be used. Well, I still use mine. haha It works well in my apartment. It's 6′ tall, and prelit with white lights. It has been the only tree that I've used for years, so typically there are more ornaments on it. Most of the ornaments that I have were gifted to me. I love to collect ornaments for any occasion! This year, I decided to use a blue ribbon as garland, and only placed a limited amount of ornaments on the tree. I also added small pine cone ornaments. I topped the tree with a Moravian beeswax candle that I received at last year's Lovefeast. Weird, I know… but I needed a topper since I had plans for the star that usually adorns this tree.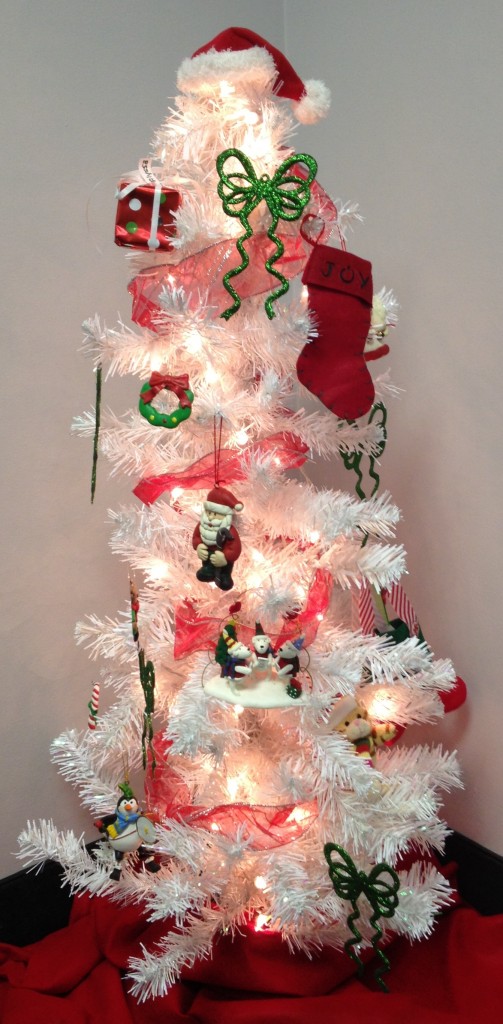 I have wanted a white tree for a couple of years now. I didn't want to spend a fortune on a full-size tree yet, so I found this 3.5′ prelit for $17. I did a terrible job of fluffing it because I put it up so quickly. I took some of the ornaments off of my skinny tree (all of the polymer ones) and used them on this one. I also used red ribbon and topped the tree with a tiny Santa hat. The tree was still missing a little something, so I purchased the green bows at Dollar Tree. This tree makes my office at the hospital perfectly festive, and quite the talk of the hall. 🙂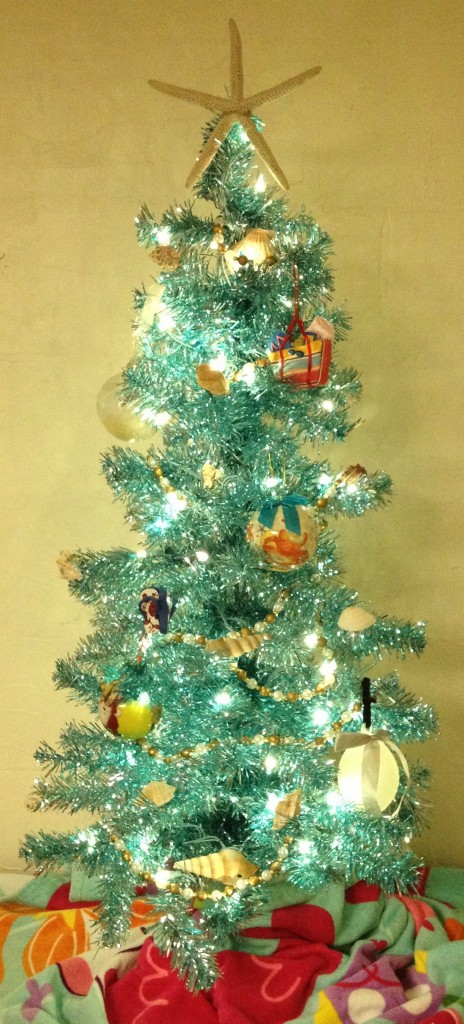 When I went to buy my white tree, I fell in love with this beautiful blue one too. Made of a aqua colored tinsel, it is 3.5′ prelit with blue lights. I knew immediately that I wanted it to be my beach tree. I normally use the starfish and hang my beach ornaments on my main tree (the skinny one) but I love the beach so much, I decided these things deserved their own spotlight. I had the beaded garland from a few years ago, and felt like the white "pearls" and gold "sand" were a great addition to the tree. Since I don't have enough beach ornaments to fill the tree, I took some shells from my collection and displayed them on a few branches. I finished the tree off by using a beach towel as a tree skirt.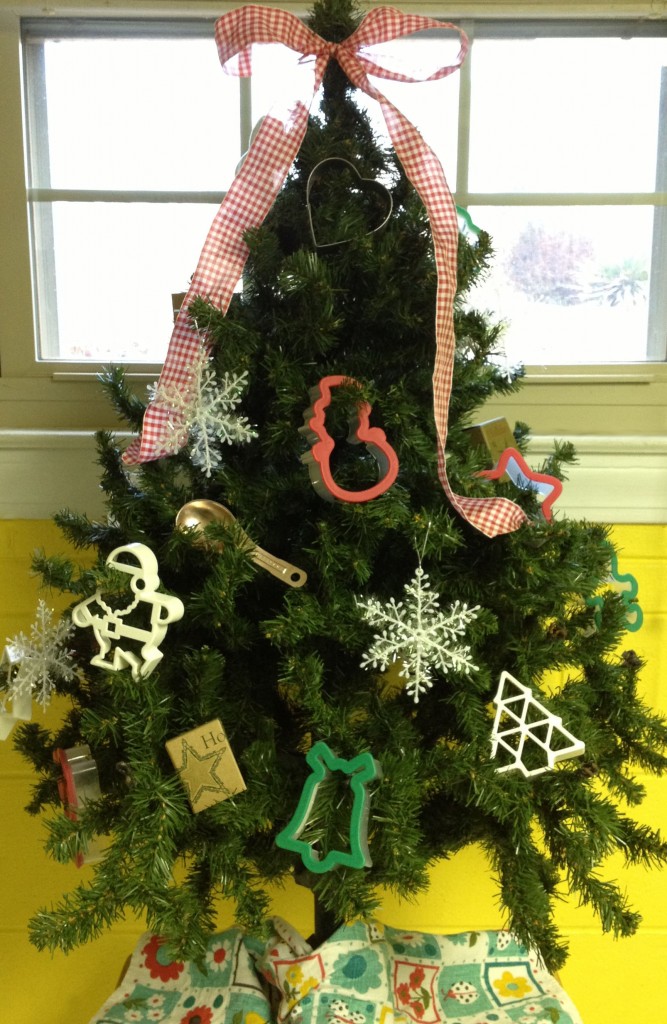 As I was taking Christmas decorations out of storage, I found a tree underneath some boxes. To my surprise, it was the old tabletop tree that my grandma had given me years ago. It is such a full, pretty tree that I knew I had to use it too. My goal was to decorate it for little-to-no cost. The tree isn't prelit, and I didn't have any lights in my decorations stash, so I knew I could use the tree anywhere. I first considered putting the tree outside and decorating it with food for birds. (Pine cones with peanut butter and birdseed, dried fruit, popcorn…) However, I didn't want the tree to be damaged, and I knew other animals would be attracted to it too. That's when it hit me – I would use the tree in my kitchen, and decorate it with cookie cutters! So I did. I had gingham ribbon that I tied at the top of the tree. Then I used snowflakes (that were also purchased at Dollar Tree), measuring spoons, and "brown bag" ornaments from Second Harvest Food Bank to help fill out the tree. I used a colorful kitchen towel as a table skirt.
And with that, my Christmas decorations are complete. haha And a friend has already called me the 'Crazy Christmas Lady'. I guess that title isn't too far fetched. 🙂 Now I should probably focus on buying presents. I have all of these trees and nothing to go under them!!!