This post has been sponsored by the North Carolina Department of Agriculture & Consumer Services. I received both monetary and product compensation in exchange for my honest opinion and review.
Nestled along the banks of the Uwharrie River near Asheboro, North Carolina is the picturesque home of Tom and Janice Henslee. They share their home with Janice's mother, as well as a number of bees, free-range chickens, three adorable Brussels Griffon pups, and a field of grass-fed cows. There is plenty of wildlife, too, on the 110 acres that is Back to Earth Farm.
I had the pleasure of spending a morning with the Henslees. They welcomed me into their home to chat about the history of the farm, explain how their farm operates, and share their plans for the future. As I hung onto their every word, I was excited to hear that we share similar beliefs in holistic health and nutrition.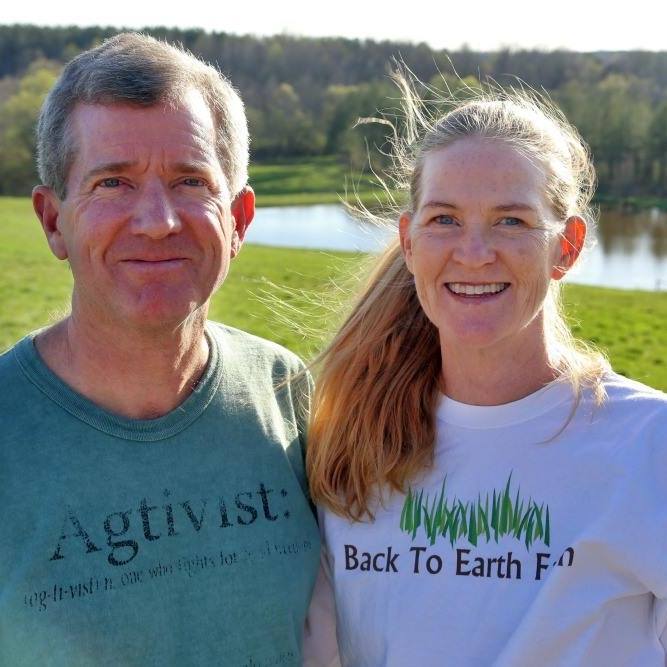 (photo courtesy of Back to Earth Farm)
In 2013, Tom and Janice moved to North Carolina from Texas to establish Back to Earth Farm. They wanted a place where they could regain and maintain their health: body, mind, spirit, and environment. They "walk to talk," so to speak, by reconnecting with nature to promote a well-balanced life. Tom and Janice are passionate about renewing the health of the land through regenerative farming practices, connecting communities with a healthy food source, and offering a place for people to learn, rest, rejuvenate, and have fun.
Tom and Janice explained the details of their sustainable farm model. They focus on healthy soil, which produces healthy plants, that will be eaten by healthy animals. That combination makes for healthier people. I was fascinated to learn that Janice had acquired a microscope specifically for viewing soil samples. She explained that she would look for live microbes, which promotes a healthy environment.
These microbes are often nonexistent in farms that use artificial fertilizers, pesticides, and herbicides. However, the Henslees do not have a need for artificial fertilizers because they choose to utilize managed grazing. Simply put, their cows are contained to an area to feed for a certain period of time. The cows are moved before all of the grass is eaten, allowing the grass in that area to regrow before the cows return to that specific part of the pasture. Using this method allows the cattle to spread their own manure as natural fertilizer.
Did you know that grass-fed beef has 80% less total fat than grain-fed, along with more antioxidants and vitamins? Tom and Janice's cattle are also GMO free and raised without growth hormones or antibiotics.
After our morning of great conversation, I received a guided tour of the property. There is a serene beauty the encompasses the still-growing farm.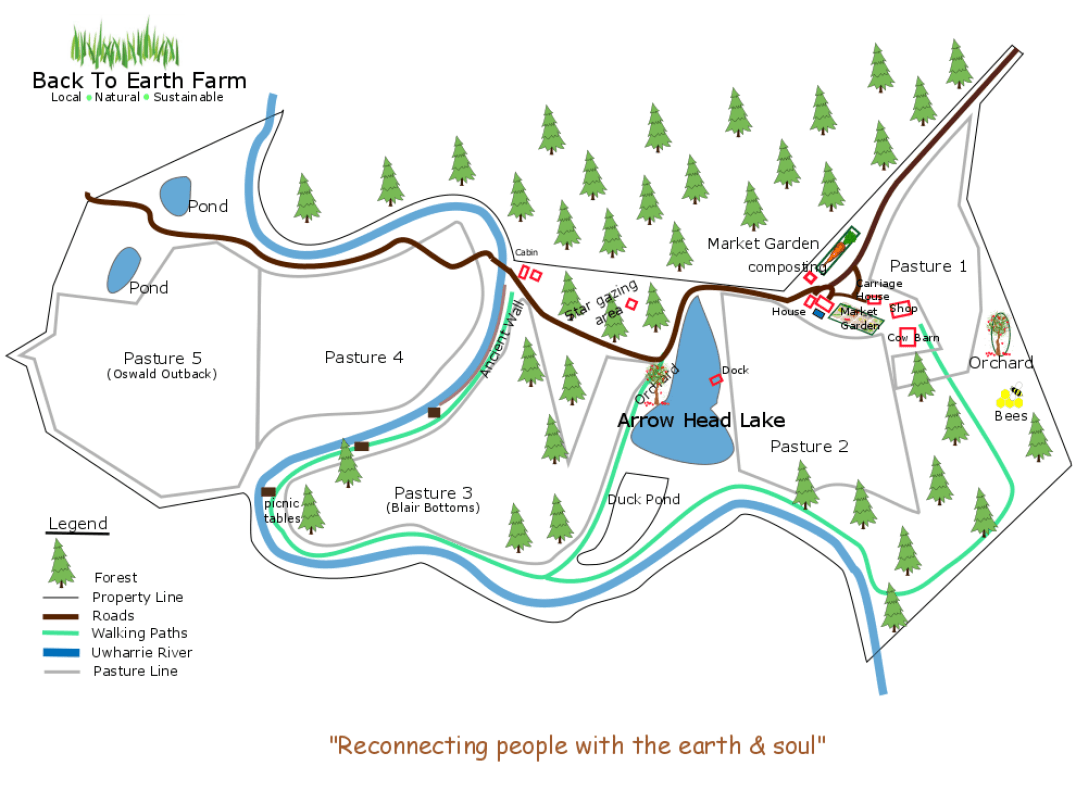 (image courtesy of Back to Earth Farm)
As we neared the river, the hidden gem of the farm appeared. It's a hand-crafted cabin made from cedar and pine. The 2 bedroom, 1 bath retreat is available for rent, and includes a full kitchen, heating and air, fireplace, TV, wraparound lower porch, 2 upper-level porches, and a carport. It sleeps 6 comfortably but is not child-proofed.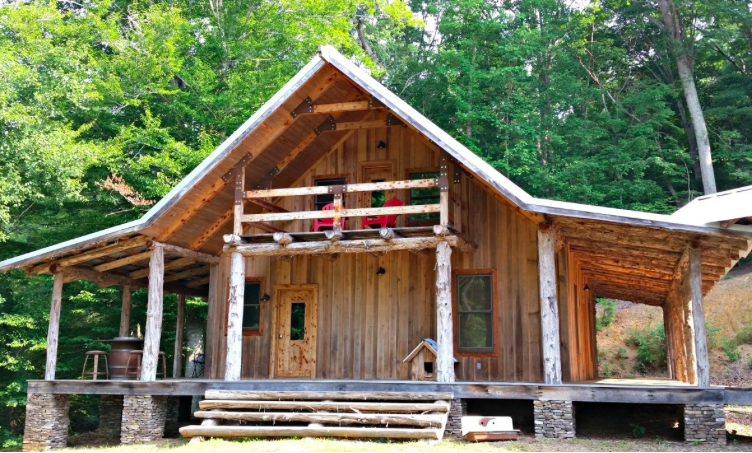 I immediately fell in love with the charm of the cabin. From the gorgeous dining room table handmade by Janice herself to the hammock on the wraparound porch overlooking the river, guests are sure to fall in love with this peaceful getaway. Janice went on to share her dreams for Back to Earth Farm. In addition to their sustainable farm producing nutrient-dense food, she envisions one day offering wellness retreats and educational workshops. For now, she is focusing on growing her most recent inception – a wedding venue! [I plan to write a future blog specifically about Janice's wonderful ideas.]
When we arrived back to the house, it was time for me to become Farmer Tom's chief farm hand. He and I headed out to the pasture to move fencing. The cows heard his whistle and hurried through the field to meet him at the fence line. Like well-trained pets, they knew what was about to happen; it was time for fresh grass to eat. As he reeled in the line, I removed the temporary fence posts from the ground. The cows were very interactive, and seemed just as interested to see me as I was to see them. Tom took the fence posts from me and started to reset them in their new location. I followed behind, securing the line to the posts. And just like that, I became a tiny part of their efforts to leave the land healthier than when they arrived. Restorative farming at it's best.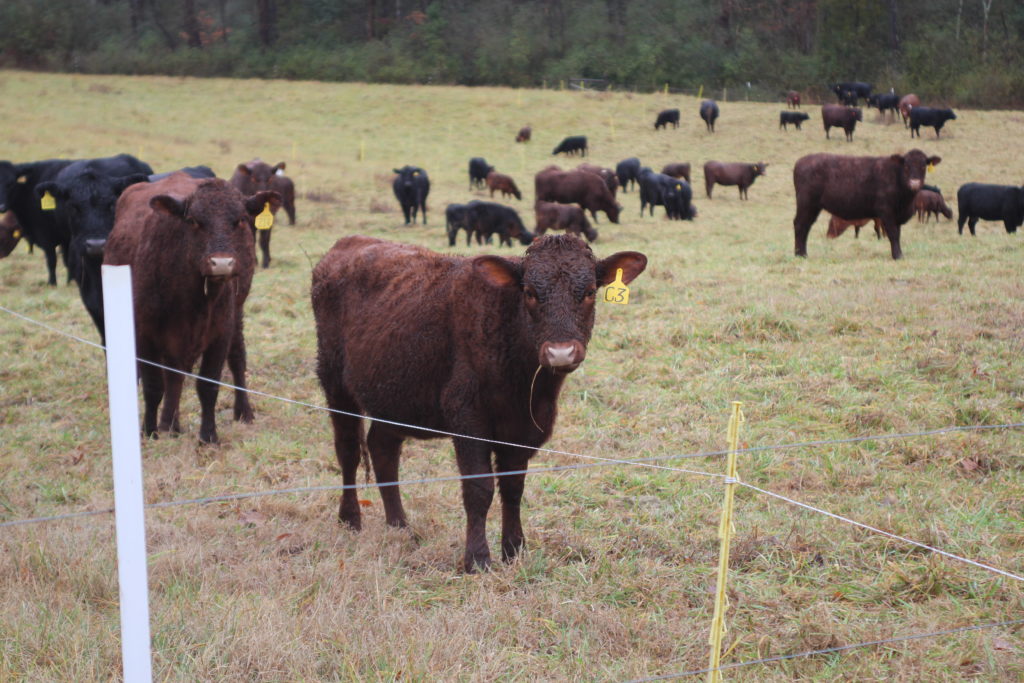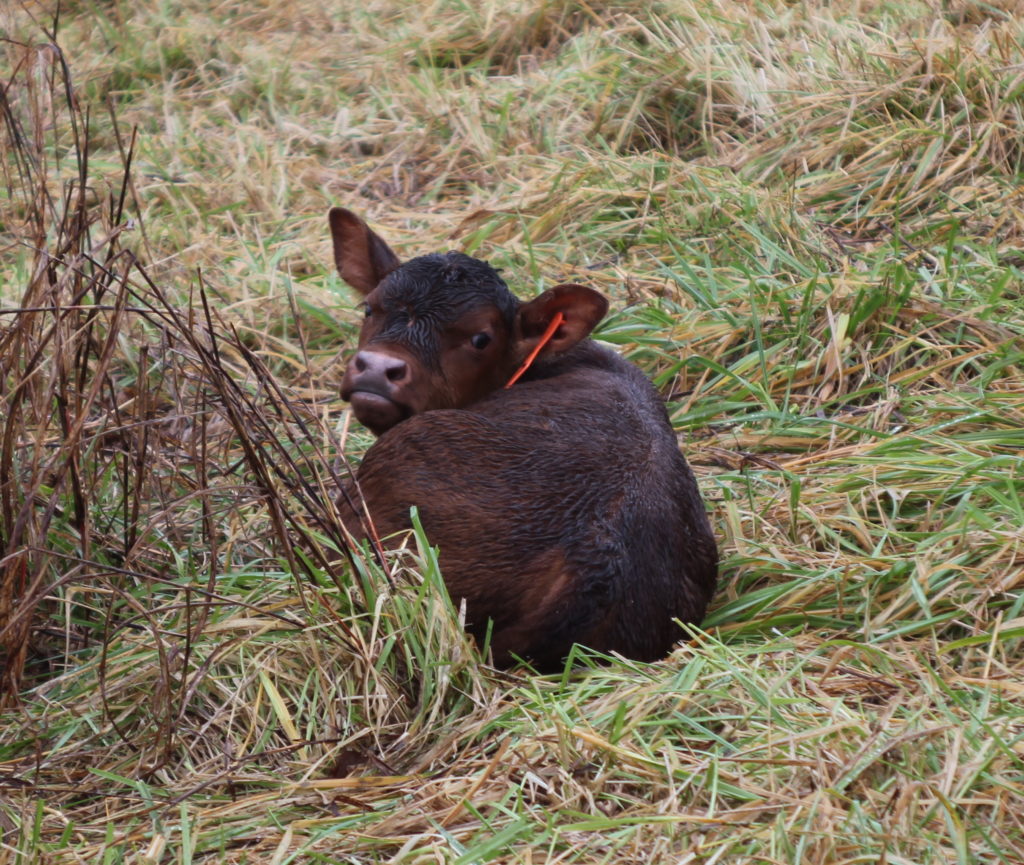 (The newest member of Back to Earth Farm, a 5-day old calf.)
Before I said goodbye, Tom filled a bag with a selection of meat, from ground beef to filet mignon. I admit that I was a little sad to leave my new friends and the amazing farm that they have created, but I was equally as excited to head home and prepare something tasty with local, grass-fed NC beef.
I love simple, whole food recipes and from-scratch meals. I decided to make tacos with organic, non-GMO ingredients to pay homage to the Henslees and the holistic philosophy that we share.
Ingredients:
1lb grass-fed beef
1/2 small onion (organic)
1/2 bell pepper (organic)
1 zucchini (organic)
3/4 cups water
1T chili powder
1/4 tsp garlic powder
1/4 tsp onion powder
1/4 tsp dried oregano
1/2 tsp paprika
1.5 tsp ground cumin
1 tsp salt
1 tsp pepper
1T olive oil
Additional Organic Ingredients:
1 tomato (diced)
black olives (small jar, sliced)
shredded lettuce
guacamole
non-dairy shredded cheddar cheese
gluten free taco shells and/or gluten free soft tortillas
Instructions:
Prepare by dicing the organic vegetables. I love adding fresh veggies to any main dish. They provide extra nutrition as well as offering more flavor and texture to a meal.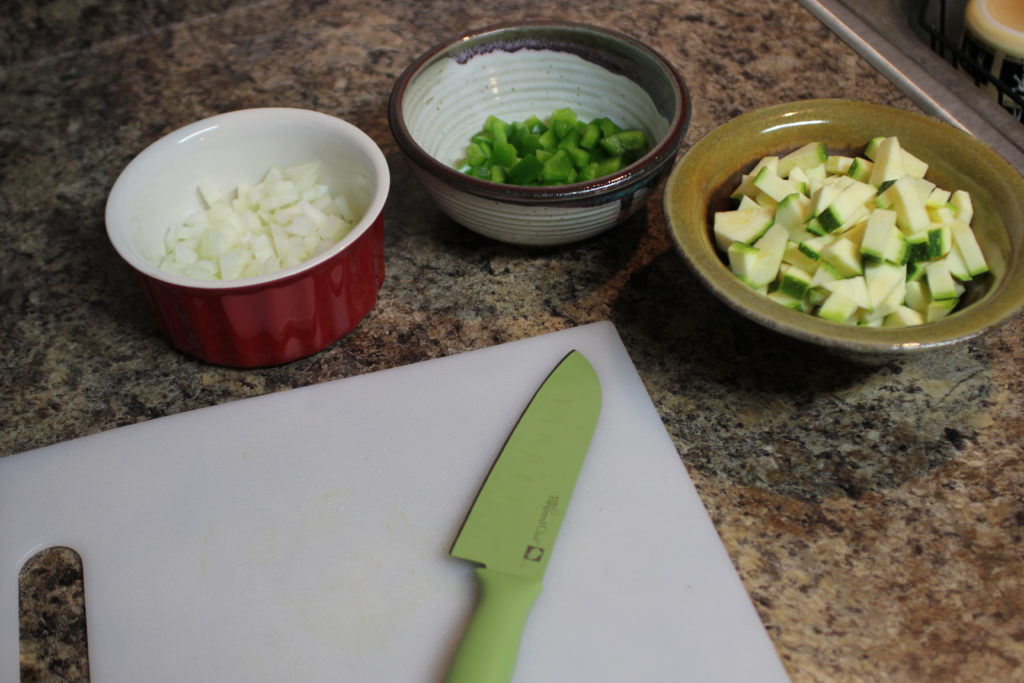 Add olive oil to a medium-sized saucepan; heat on high. Then add diced vegetables. Sauté until tender.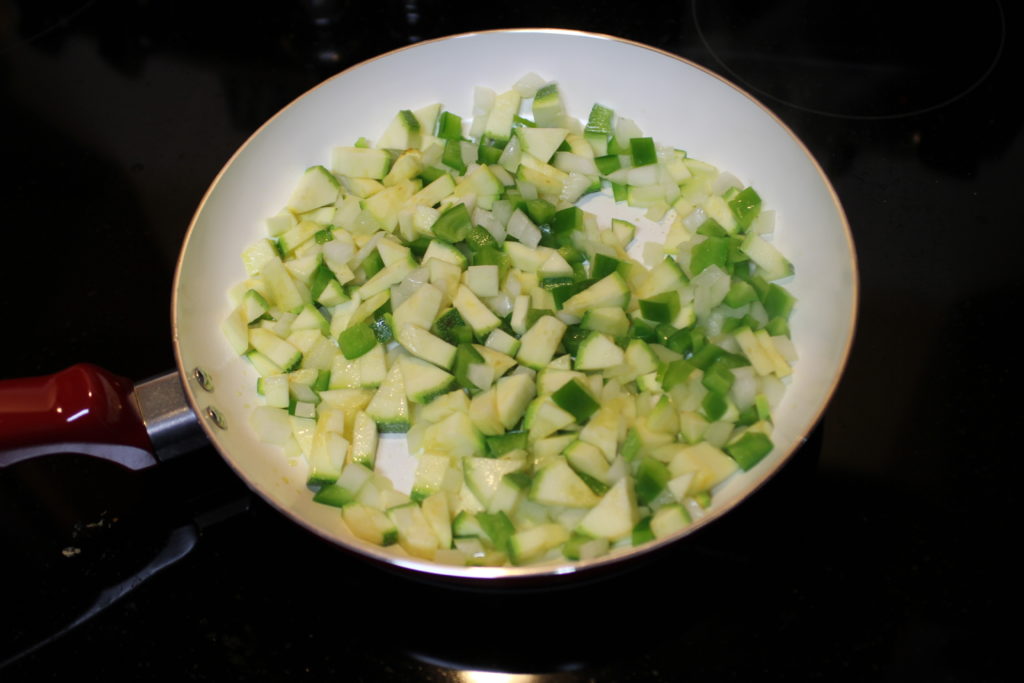 Remove the sautéed vegetables from the saucepan and set aside. In the same saucepan, add the grass-fed ground beef. Brown thoroughly.
When the beef has finished cooking, drain grease (if there is any; my Back to Earth beef had very little!) and return beef to saucepan, along with sautéed vegetables and taco spices.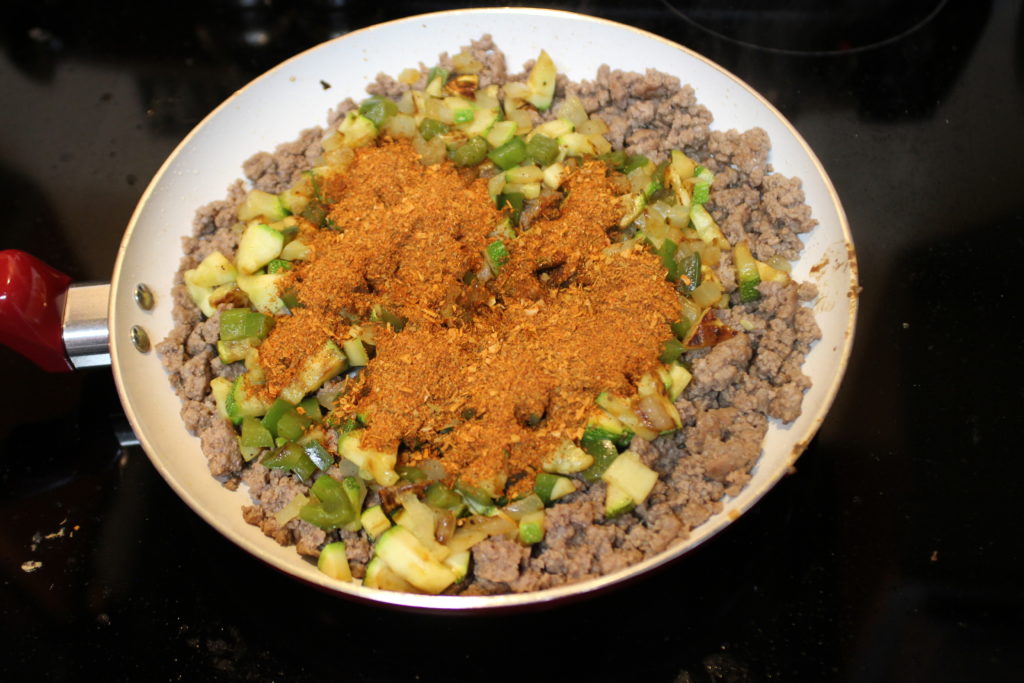 Side note: I use spices instead of a prepackaged taco mix. However, there are several great choices available if you do not have individual spices on hand. Check out: Wick Fowler's Taco Seasoning or McCormick Organic Gluten Free Taco Seasoning. Both are available at local grocery stores.
Add water, mixing ingredients well, and heat to boiling.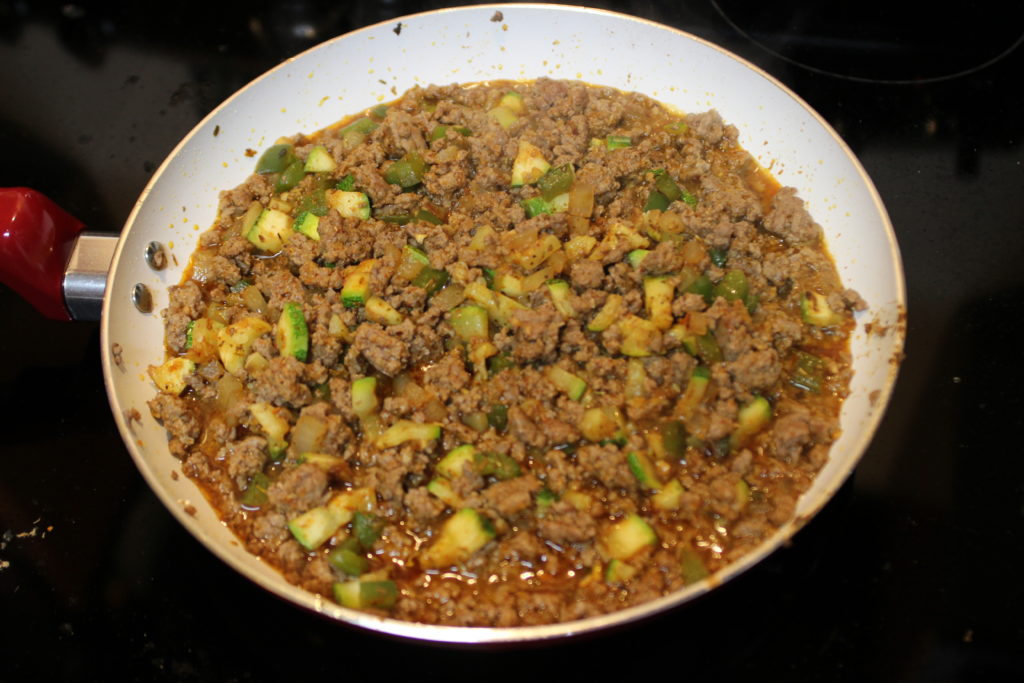 Reduce heat; simmering uncovered 4-5 minutes, stirring often, until thickened.
To assemble taco, select preferred taco shell. I used both a Garden of Eatin' brand yellow taco shell and an Udi's brand plain tortilla, which mimics a soft taco shell.
Add beef mixture, then layer with lettuce, tomato, olives, guacamole, vegan cheese, [I prefer Daiya brand cheese.] or any other topping of choice.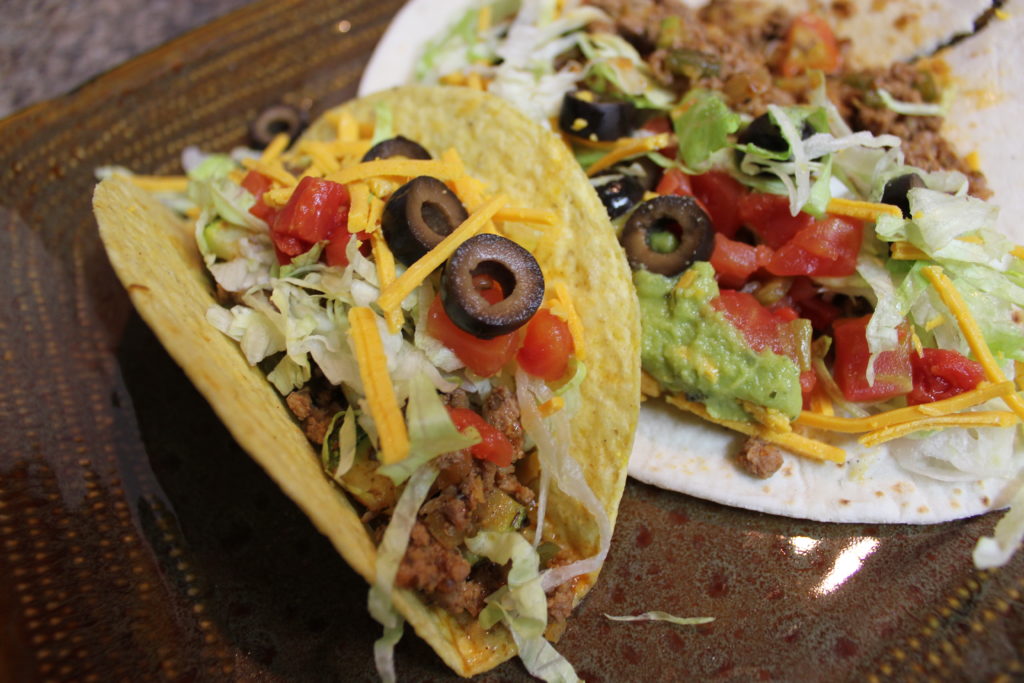 There you have it! A simple, whole food taco that is delicious, healthy, and takes less than 30 minutes to prepare and cook.
I have had so much fun learning about local grass-fed beef. There are a lot of choices for consumers when it come to NC Beef, available throughout the state in farm stores, at farmers' markets, and online. Back to Earth Farm offers online shopping, as well as scheduled deliveries. If you're interested in learning more about Back to Earth, or scheduling your own farm tour there, please visit their website: Back to Earth Farm
As I mentioned earlier, this post was sponsored by the North Carolina Department of Agriculture and Consumer Services. It is an honor to be featured alongside eight amazing bloggers who also toured NC farms and shared their recipes. Please check out their posts below.
Got To Be NC Beef Farm Tours
And What To Make with Your NC Beef