Life is overwhelming. From our every day To-Do lists to our goals and dreams, the anxiety of stepping out to tackle all that life has to offer can stop you in your tracks. No one knows this better than me. Just in the last week alone, I have been overwhelmed five times. Seriously! Cleaning the house put me in a tailspin because I worried over what room to start first. Creating a meal plan for my new color-coded diet took me two hours because I felt like I had too many meals to categorize. And don't even get me started on this website. Do you know how many blog ideas I have in my head? I have started them all, but finished none. It is often paralyzing, and results in unfinished chores and missed deadlines. (Yes, this Motivation Monday post is officially a week late!)
I tend to focus on the big picture. I want to see the end result. I want to reap the benefits. Who doesn't? But if we're so focused on looking ahead to the finish line that we stop taking steps forward, we'll never complete the race.
There is one common factor that can help us in achieving all of our aspirations, no matter the goal. START SMALL.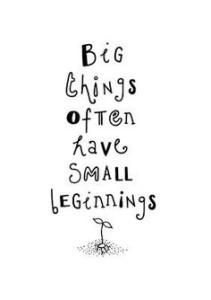 It has been said that one of the top habits of a successful person is their ability to start small. Katie Ledecky is an Olympic swimmer from the US, who holds the current world record for the 400-, 800-, and 1500-meter freestyle. She began swimming at the age of six. Although she was born into a family of swimmers, Katie couldn't swim the length of the pool at such a young age. Although she was determined to get to the other side, she often had to hold onto the rope for help. Did that make her less of a swimmer? No. She knew that in order to reach her destination, she had to continue forward even if it meant slowing down, reassessing her focus, and occasionally reaching out for help. Her small, yet persistent beginning has taken her to her second Olympics, where she continues to succeed.
Like Katie, I also want to reach the other end of the pool, so to speak, on several goals. But the difference is that I seem to always ungracefully jump into the water and then flail around somewhere in the middle. There is no forward movement, no focus outside of the end results, and I never reach out for help.
In order to overcome the sense of being overwhelmed by our goals, we must think on a small scale. What plans to you have? Do you want to start your own business? Do you want to better your health? Do you just want to get your house clean and organized? Let's think about how we can 'reach the other end of the pool' in these types of scenarios.
Most small businesses start with brainstorming. Many of us can dream up ideas. But did you know that there are steps forward in the brainstorming process that we should take BEFORE we advance to the 'next section of the pool'? When we're in this initial phase, we should slow down and take the time to focus on questions like, "What could go wrong with this business and how would I solve it?" and "What are the main things I want my customers to know about me?" After you have considered all of the questions that may arise about your business in general, then move onto to the next step… gathering resources. This may be your opportunity to 'grab the rope' by reaching out for assistance. See the pattern? Small, slow, and steady progression forward.
When it comes to my health, I don't want slow and steady progression! I saw a quote yesterday that read:
"Two days into my diet and I'm still not skinny? This is bulls#!*"
Right? I want immediate results. Don't you? And that is the number one reason why most diets and exercise plans fail. We jump in… all-in… with no small steps planned. We would be better off setting smaller goals. Want to lose 30 pounds? Your first goal should be 10, and only 10. Interested in a 5K? Your first goal should be one mile. Once you're comfortable with that distance, then you can focus on two. Need to change your eating habits? Pick one thing to slowly remove and replace it. Cookies to fruit. Chips to carrots. Don't try to give up everything at once. And most importantly, reach out for help! Have an accountability partner. Download an app to use. Join a group in your community with similar goals. All of these things are small steps toward your ultimate goal.
For me, instead of looking at how unorganized my entire house is, I have decided to focus on one room at a time. I am not going to rush. I am allowing myself one week per room. I will start small and take the slow and steady forward approach, beginning with the room that I use the least and work toward my busiest, most cluttered space. Being able to finish one room will not only give me the satisfaction of completing a small goal, but it will also motivate me to tackle the next, more unorganized, area of the house.
Let's make a promise that the next time we're feeling overwhelmed by our big dreams and lofty goals, instead of abandoning them, we'll continue forward, slowing down from time-to-time to reassess our focus on smaller steps, and reaching out for help when needed. Big things are in our futures!