After my failed attempt to paddle down the Yadkin in a tiny kayak a couple of months ago, I was in search of two things: someone who could fit me for the right sized kayak, and someone who could teach me how to maneuver it correctly. I was told that Great Outdoor Provision Co. would hold demos but when I checked their event calendar online, all local demos had already passed. I was starting to convince myself that it would be springtime before I would get to be fitted, when out-of-the-blue, a friend told me about a Demo Day in Greensboro through a company called Get: Outdoors. It was scheduled for July 23, and I already had plans for that day, so I jumped on the company's website hopeful to find more Demo Days scheduled. What I found was even better.
Get: Outdoors has an amazing program called Women on the Water. (I love that the acronym is GO WOW.) The program is lead by JoAndra Proia, an ACA Certified Kayaking Instructor/Guide and Yoga Instructor. GO WOW offers women encouragement, support, and training for paddling flat water and beyond. Jo is passionate about unplugging from the digital world, sharing her knowledge of wildlife and nature, and teaching outdoor safety from kayaking to camping skills to first aid. Not only does GO WOW offer instruction, but they have many opportunities to utilize the skills that are learned in class with both day trips and overnight adventures. And it's all for women only. How empowering!
I picked up the phone and immediately called Get: Outdoors to register for two classes that were being held on the same day, Intro to Kayaking and Foundations & Fundamentals 1. They were both held at the same location, one right after the other. The classes were only $35 each for two hours of instruction. The cost included kayak, life vest (PFDs), paddle, and lake fee. When I registered, I explained my previous experience and what I was hoping to find in a kayak. I was told that there would be several options of kayaks to choose from that day, and that fitting/demo was part of the class. I was ecstatic!
Just as promised, on the day of the class I was given the opportunity to demo any of the kayaks that Jo had brought. After chatting with her, and checking out the different makes and models, I ended up falling in love with the Perception Prodigy 12.0. It handled so easily, was just the right speed for me, and was surprisingly comfortable. At 12′ long, it only weighs around 50lbs. It includes knee/thigh pads around the open cockpit, slide lock foot braces, and an oval stern hatch.

The Intro to Kayaking class began at 10am. Many of us had very little paddling experience; some of us had no experience at all. Jo was thorough in making sure we were prepared well before we launched our boats. We had a PFD demonstration followed by how to enter and exit our kayaks. Once we were in the water, we covered the basics: forward paddle, reverse paddle, side sweep, and how to raft up.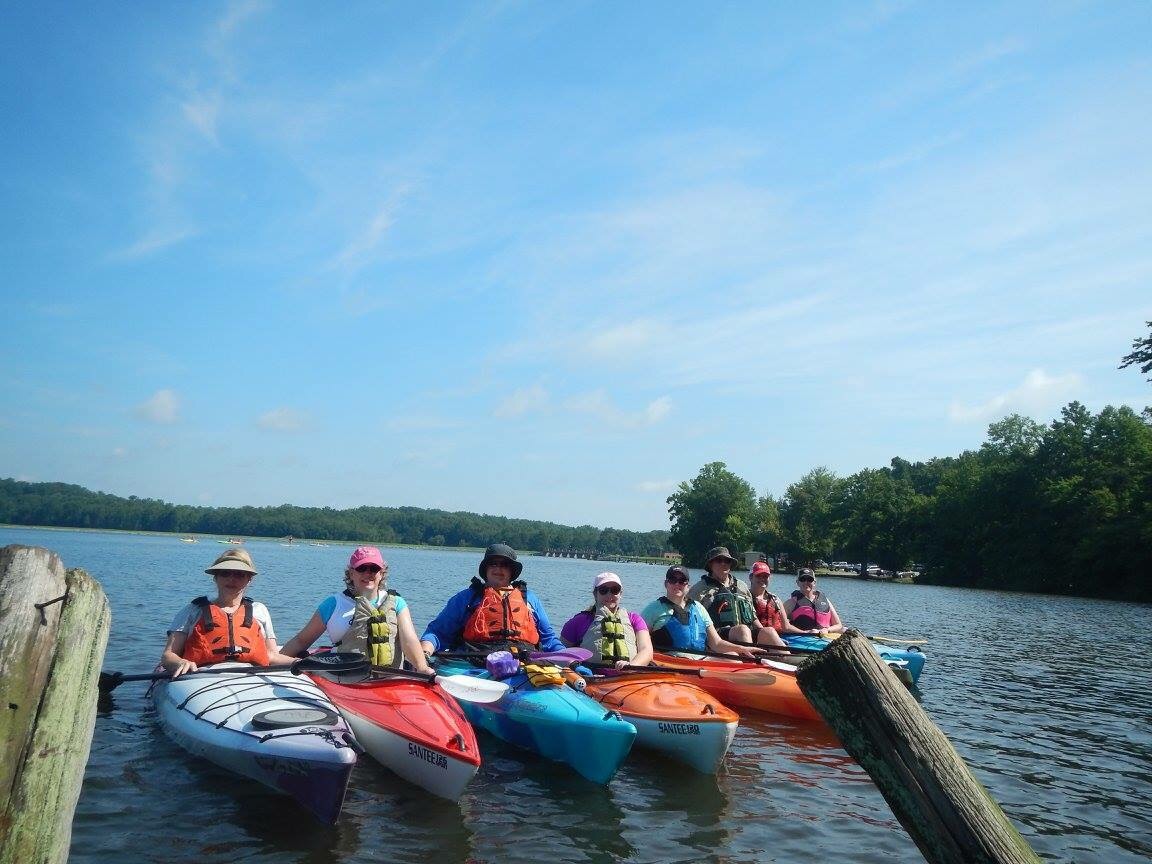 Here are the participants from the Intro to Kayaking class at our first raft up. That's me on the far right, at the end.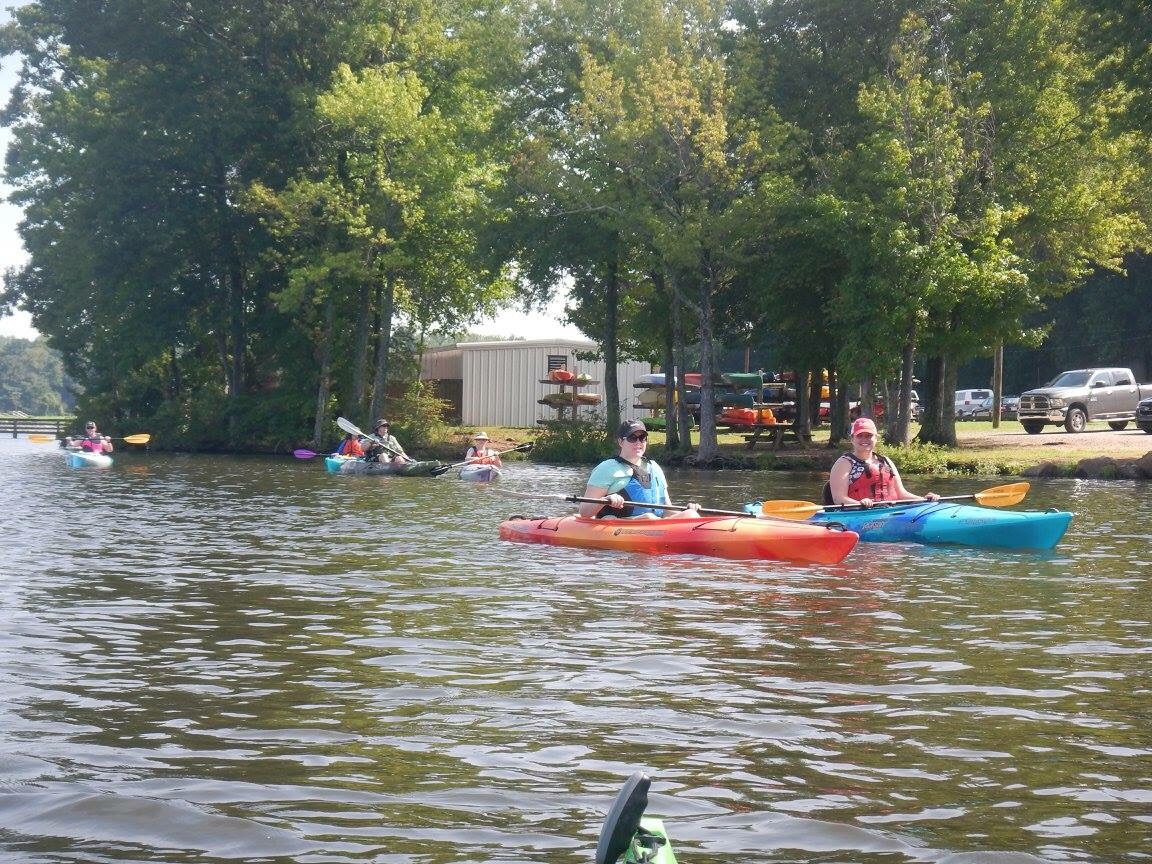 We're working on our paddle grip in this photo. I have a tendency to hold my paddle too tight. The correct grip allows you to be able to wiggle your fingers. It took some getting used to, but I finally got it!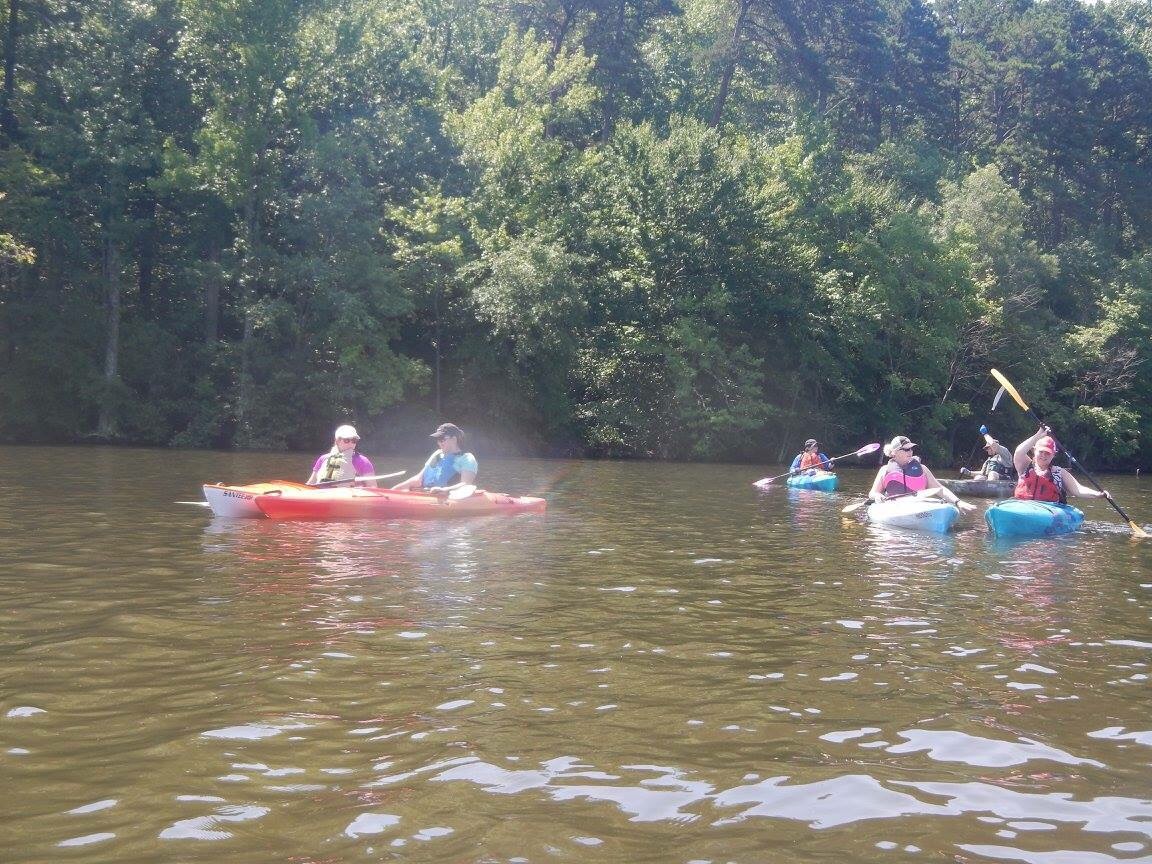 Jo had us team up to work on our side stroke. It's hard to tell if you're moving sideways without a stationary kayak beside of you. One of us would sit while the other paddled away. That way, we could better tell if we were actually moving to the side or forward.
At noon, class dismissed. Some of the ladies left. The three of us who were staying for the 1pm class had a nice lunch under the lake's picnic shelter with Jo. We were able to ask additional questions and chat about paddling in general. It was fun learning about the history of Get: Outdoors, and all of Jo's adventures!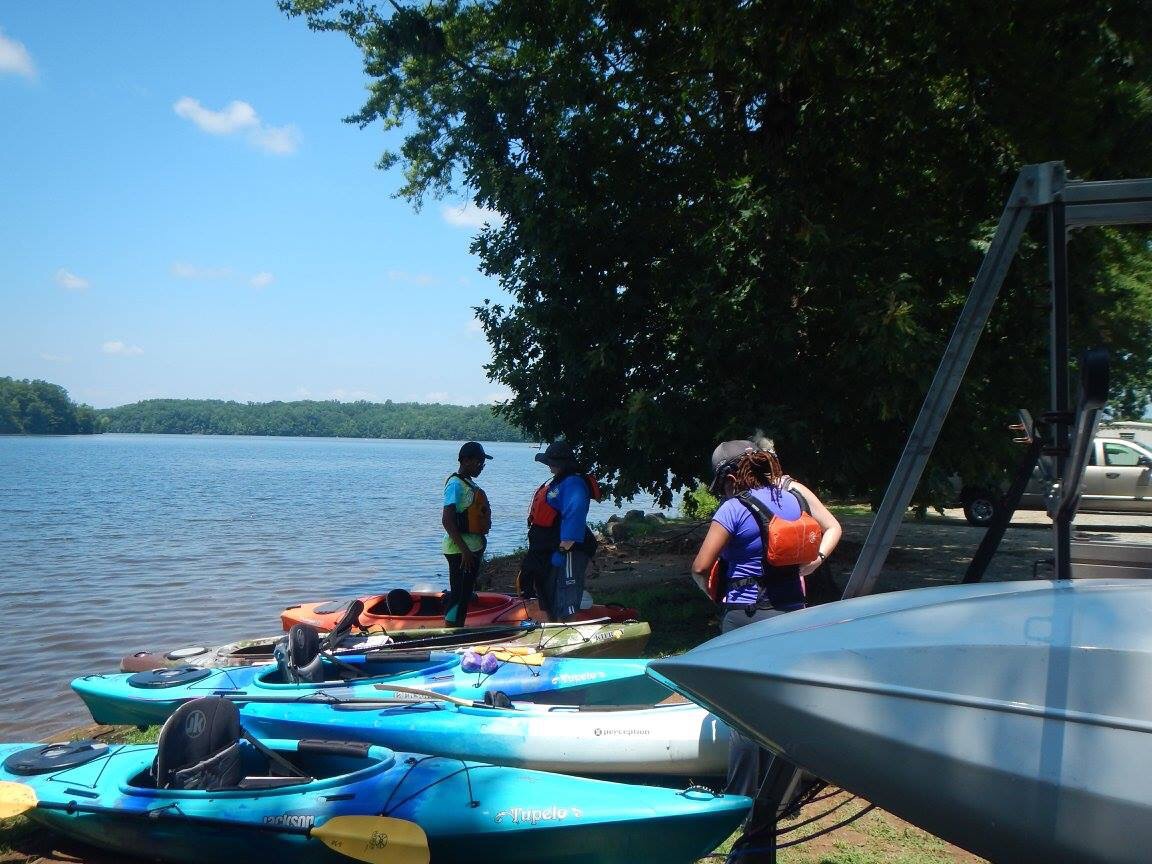 At 1pm, the Foundations & Fundamentals class got underway. Those of us who had attended the morning class helped the "new" students with prepping. We grabbed a partner and shared our new-found knowledge with step-by-step instructions for PDFs and foot brace adjustment.

Once everyone was ready and boats were selected (I remained in the Prodigy), we headed back out on the water to learn more advanced maneuvers like "rainbow" sweeps, edging, steering with our hips, and spinning the kayak.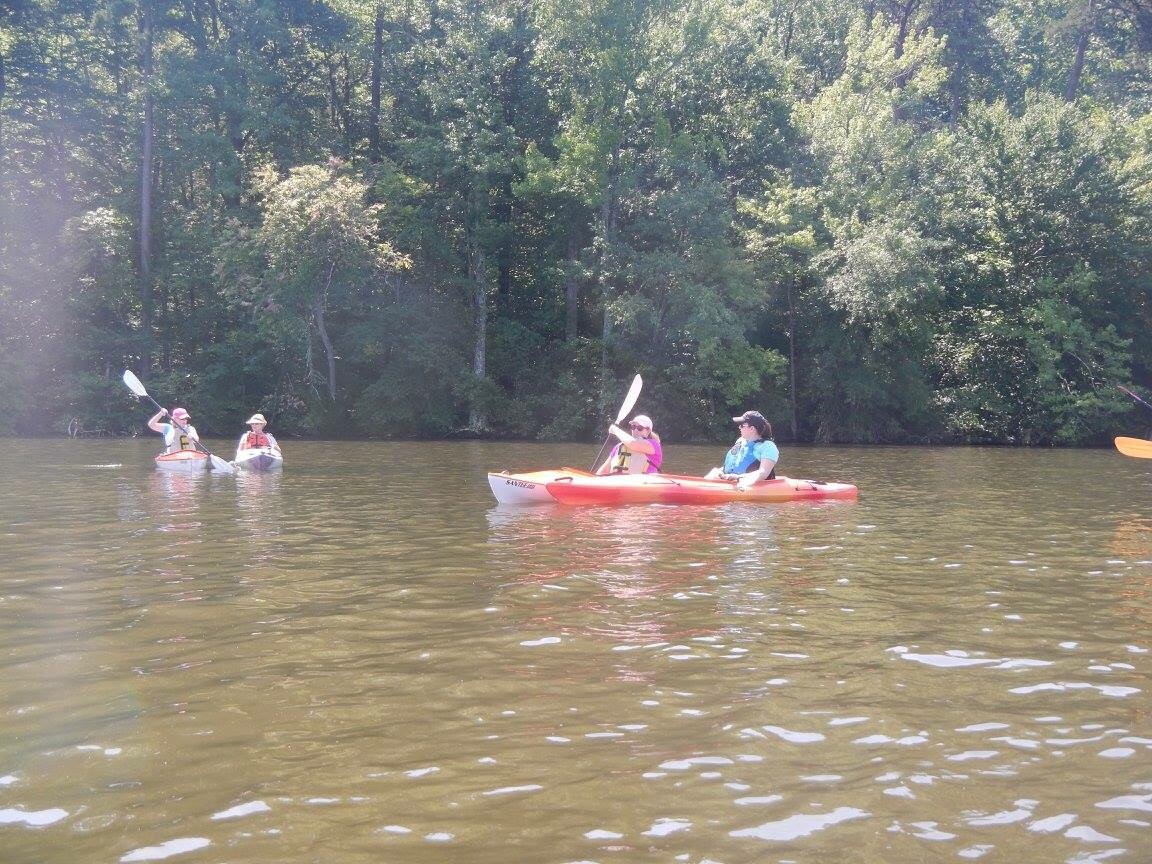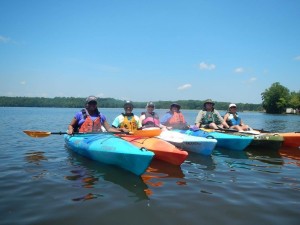 Our afternoon raft up. 🙂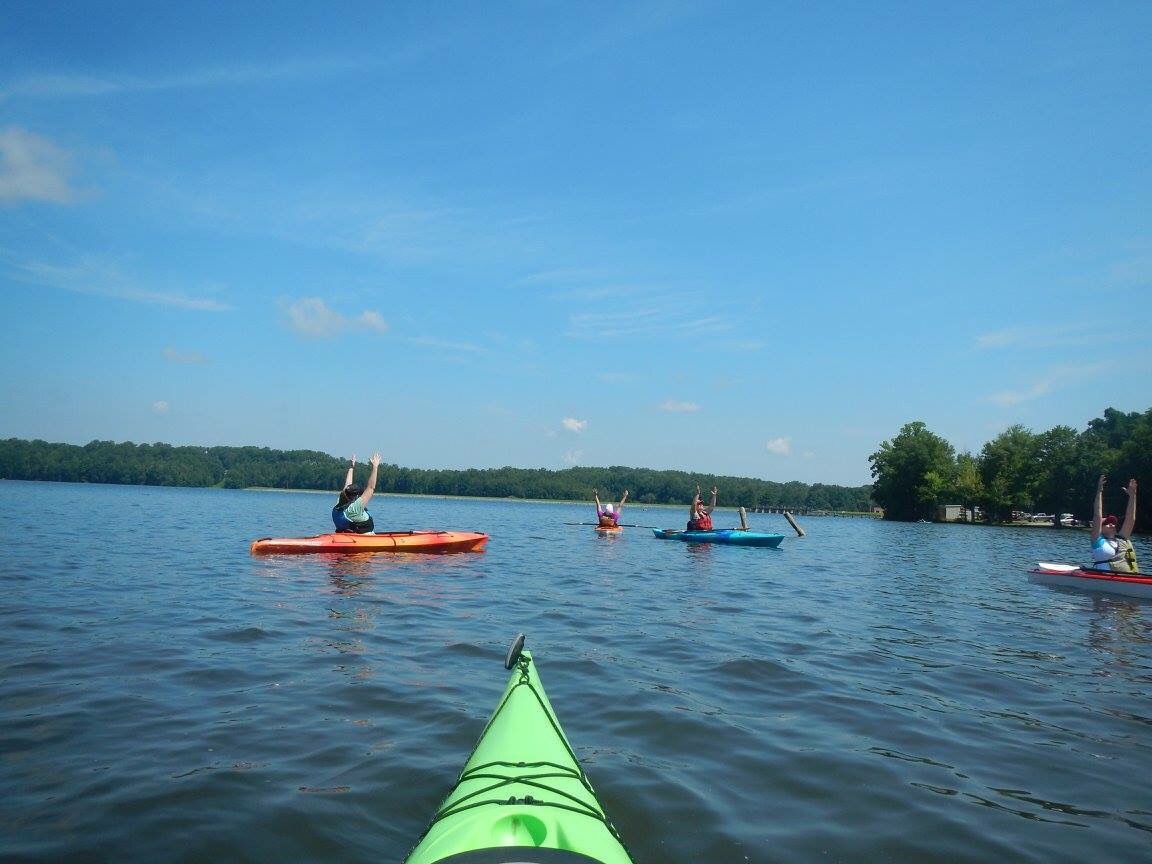 We even got in a little kay-yoga!
When class finished, we helped Jo load our kayaks back onto the trailer. I whispered "see you again soon" to the Prodigy, since Jo wouldn't let me take her on home with me. haha [Get: Outdoors has an end-of-season sale in September where they offer their used boats at a discounted price. I am hoping to attend the sale and find my new-to-me kayak just in time for some last-minute fall paddling.] I left the marina around 3:15pm with a huge smile on my face. Yes, I had just received four hours of very educational training… but I also gained so much more. I had a new-found confidence, met some great people, and even had a sun-kissed glow on my arms and legs. (Hey, I don't tan very easily so that's a big deal to me!) It was such a wonderful experience. I just wanted to find a kayak that fit me but instead, I have found a new community of women with whom I can be adventurous.
Ladies, if you live in or around the NC Triad area and have ever considered paddling but aren't sure where to begin, I highly recommend GO WOW. It is an experience that you will not regret. I hope to see you all on the water soon!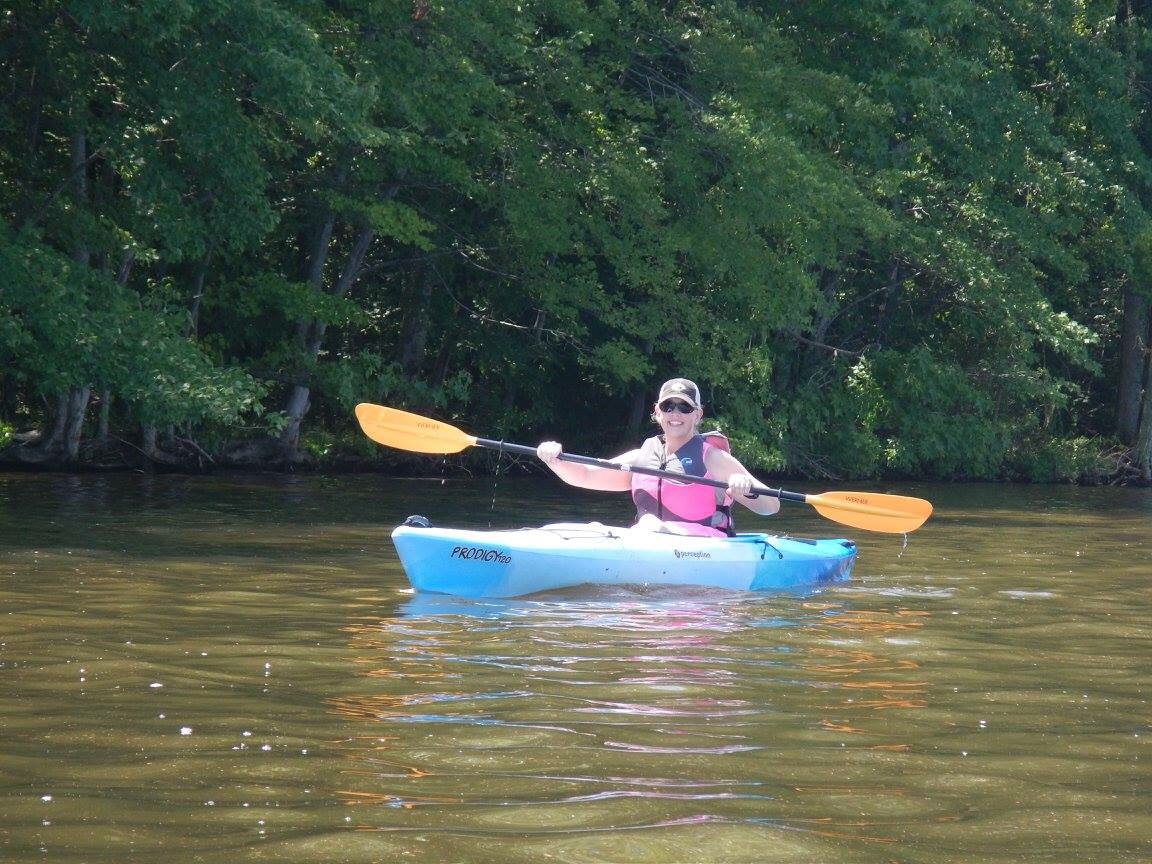 Happy Paddling!
I was not compensated for this post, and it contains no affiliate links. All opinions are my own and not influenced in any way. Photo credit: JoAndra Proia