This is a pretty significant year for me. I turn 40 in June. I eased my way into my thirties and have, for the most part, enjoyed the time there. Sure, I experienced some pretty scary times over the last decade, but I somehow managed to maintain a confidence that I never had in my twenties.
For some reason though, I don't seem to be as comfortable preparing for this birthday. I can't pinpoint why. Two of my nieces are pregnant, each with their first child. A new generation will soon be entering our family. I have always felt youthful, but maybe now I'm finally starting to feel old? Or at least, feel my age. I am also coming to terms with my health. I'm seeing my body struggle. I can't eat like I used to. I don't heal as fast as I once did. And it certainly isn't easy to stay get in shape. Ultimately, I think I've gotten a little too cozy over the past 10 years. The upcoming milestone birthday is acting like a giant neon sign for reality. I'm not getting any younger or healthier just sitting here.
A friend of mine recently shared this quote with me: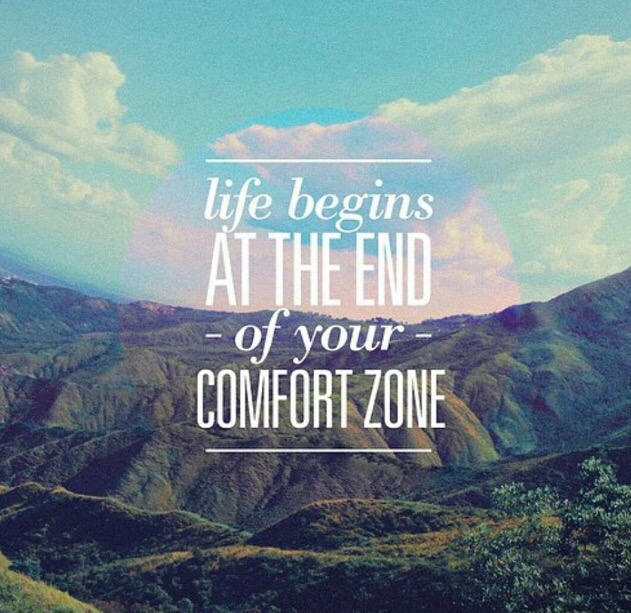 Boy, did that hit home! Instead of sitting around worrying about what this year (and/or the next decade) will hold… maybe it is time to stop being so complacent. Although I can't physically get younger, I can still reverse the uneasiness of growing  "old and unhealthy" by pushing myself beyond my normal limits.
I made the first step out of my comfort zone this past weekend. I became a member of my local YWCA/YMCA network. I did it with anticipation of marking something off of my 2016 Bucket List: my first triathlon! I have to admit… this is scary! I'm extremely nervous about it. I'm afraid I will fail. I'm afraid I will give up. I'm afraid of knowing how uncomfortable I will be over the next six months. This journey will not be easy. I'm a mediocre runner. I love the water but it has been years since I've done any lap swimming. And I'm really not certain if my aging knees will even allow me to cycle. This could be the biggest disaster ever. Or, this could be just what I need to jump-start a healthier, 40-year old Jenn.
"Life begins at the end of your comfort zone" is a great motivational quote that can apply to so many things. For me and my mission to be healthy, youthful, and confident in my 40s, I'm going to have to work hard for it. I'm going to have to acknowledge my comfort zone and push past it daily.
What is your mission for 2016? Is it health related? Or have you always wanted to learn to play the guitar? Maybe you have goals of traveling? How about starting your own business? Whatever it is that you have been wanting to do, let this quote motivate you to do it. The wait is over. It's time to step out of your comfort zone. Let life begin today!