Items used:
Old picture frame (16×20 – purchased for approx $10 already painted)
Screw eye hooks – 3/4 in.
Jute twine
Scissors
Stapler
Tape measure
Pencil
Small craft clothes pins
The first thing that you'll want to do is paint your frame, if you want it painted and it isn't already. There are several paint options that I recommend. One is Annie Sloan Chalk Paint. This paint does not require primer and covers really well. It is also a great paint if you're planning to distress the frame. It can be a little difficult to find in some cities, however, and it is a bit pricey. Another paint option that is easy to locate, easy to use, and fits almost any budget is spray paint. I love that spray paint comes in all shades and finishes. You can get a high-gloss black lacquer to a glittery bright pink, and even a metallic gold. Your choices are endless. Latex crafts paints are perfect for this project as well.
After your paint has completely dried, place the frame backside up. You will want to measure your frame (For this project, I would recommend a frame that is at least 11×17, if not larger.) Use a tape measure or a ruler to measure the opening of the frame. Consider how you plan to hang the frame when completed. For me, I needed the frame to hang vertically, so I measured the long side. Once I determined that the opening was 20″ tall, I did simple math – yes, even for someone who struggles with math like me – and decided that if I wanted four rows, they would be 5″ apart. You probably do not want your rows less than 3″ apart because you will want enough space between them as to not overlap the notes, memos, or photos that you eventually clip on the message board.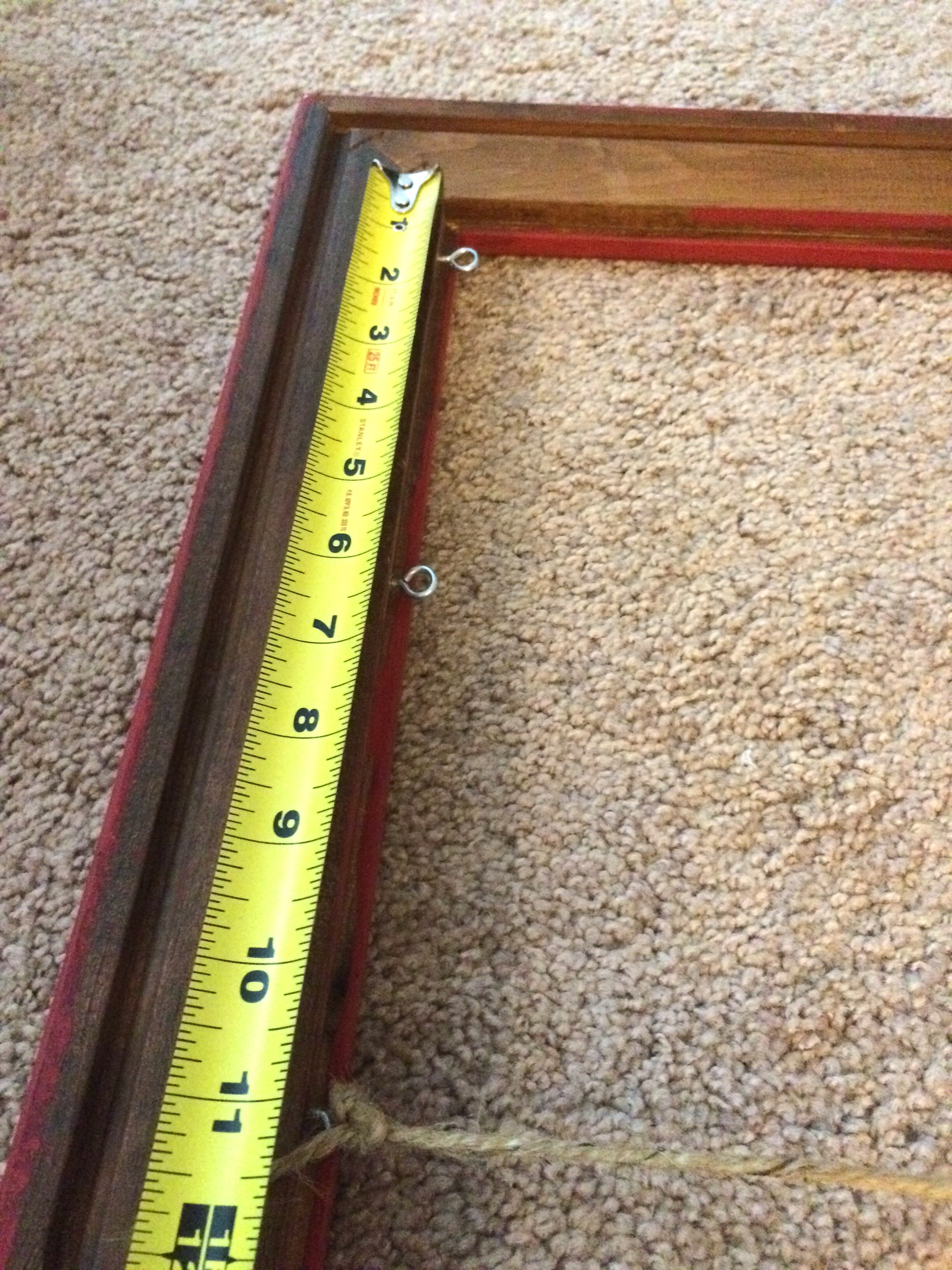 Use your pencil to mark the measurements. Note: I started the first row 1″ down from the top so that there would be enough room to attach the clothes pin to the twine. If you make your first mark at 0″, you will be unable to utilize the first row. Once you have made those marks, screw the eye hooks into the picture frame at each mark. This may take a little pressure, but should not require any tools.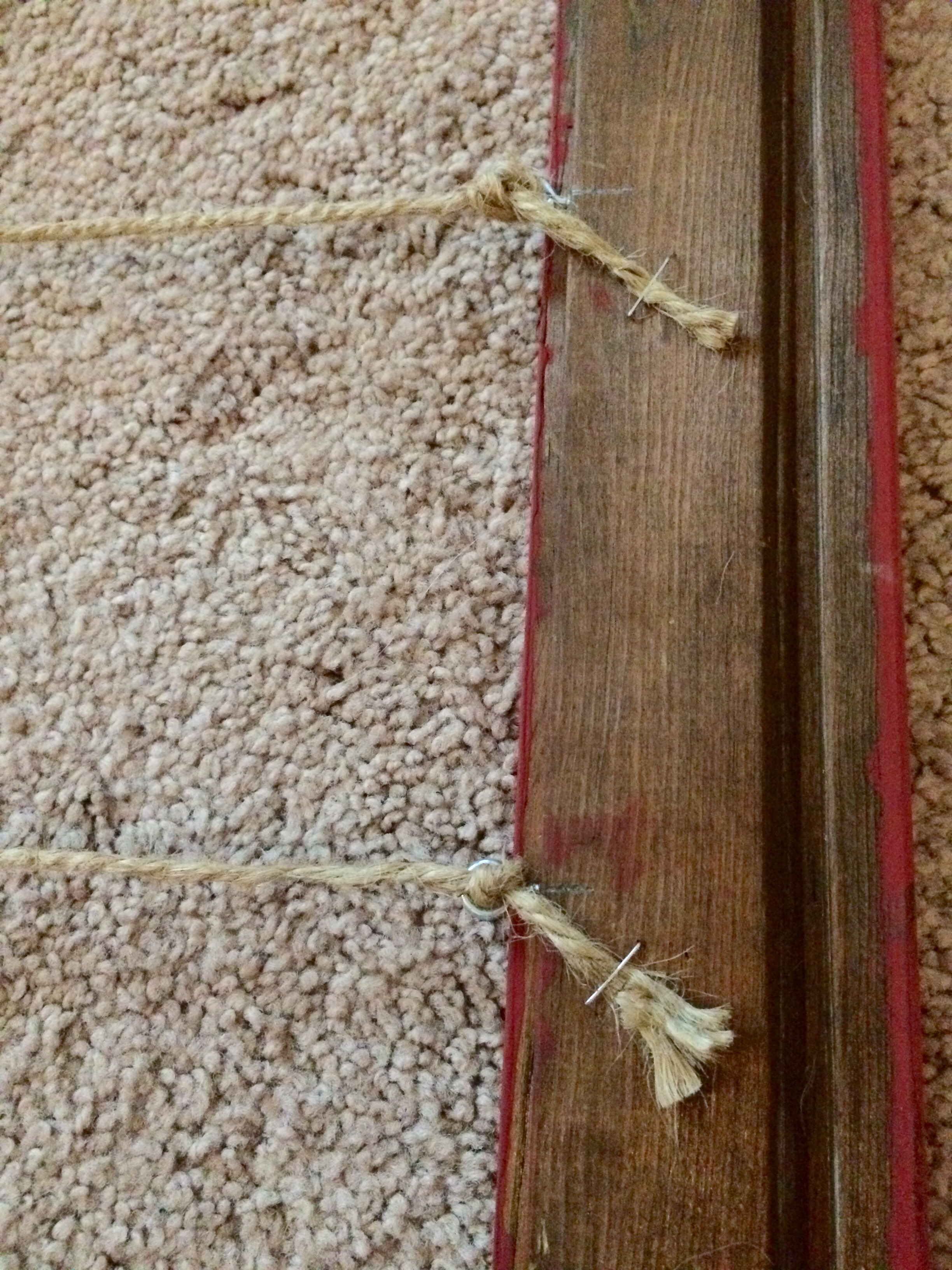 Next, cut strips of twine that are approximately 1/2″ over the outside edges of the picture frame. Tie one end of the twine to one eye hook using a double knot. Then you will want to stretch the twine straight across and secure the other end in the eye hook with another double knot. I tried to keep the twine free from any slack, but I wasn't concerned about making it taut at this point.
When you finish tying the twine to the eye hooks, used the ends to adjust the tightness of each row. You can do this by pulling the ends and stapling them to the frame. This makes the twine more taut while additionally securing it.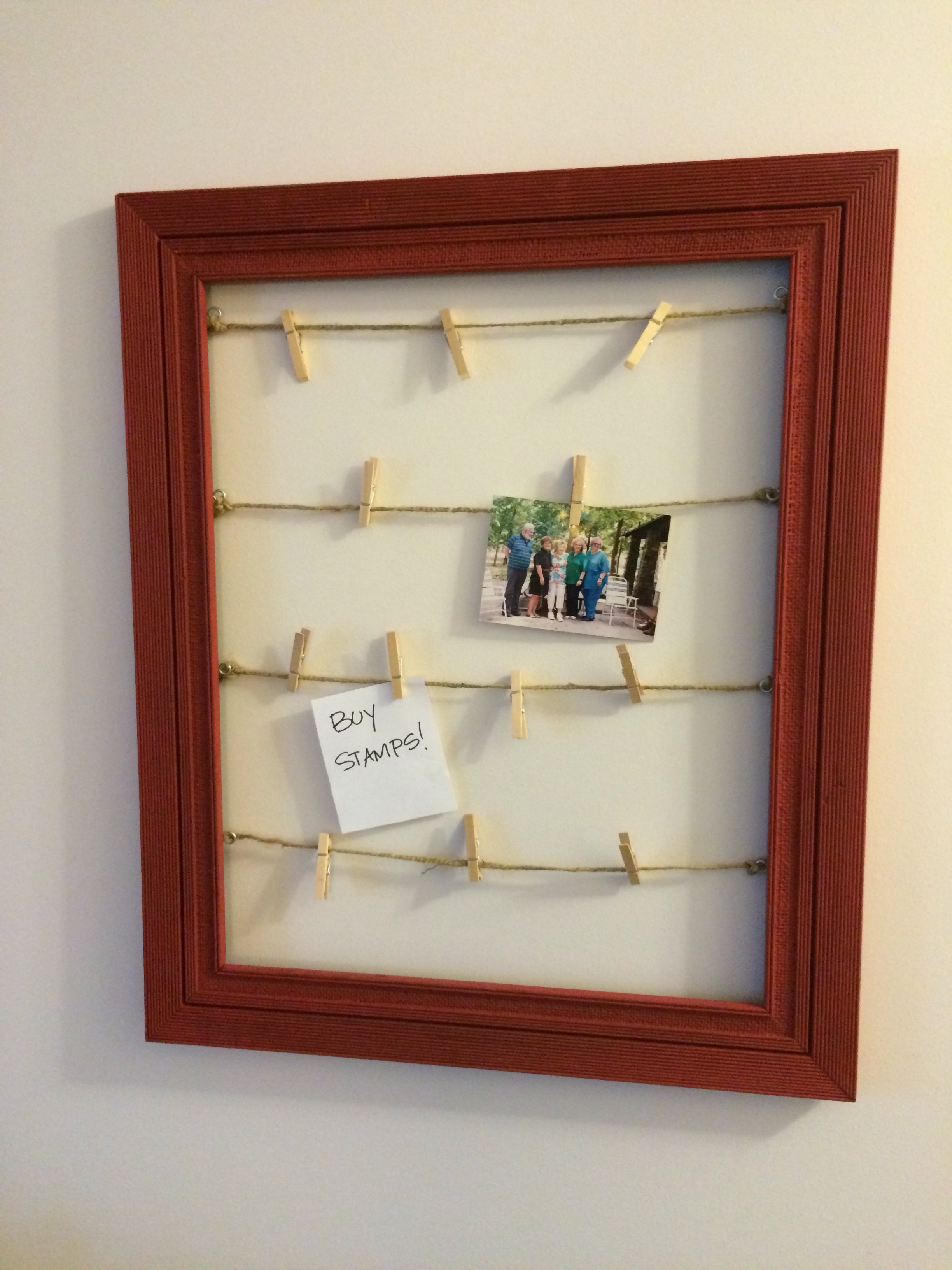 I picked up some small clothes pins at my local craft store (similar to these: http://bit.ly/1Pz58Gp) and added a few to each strand of twine. Now the message board is ready to hang!
This is great for a bedroom, college dorm, office, kitchen, or I put mine by the front door. It's so easy to use! Just clip your favorite photos, Christmas cards, grocery lists, or any lightweight keepsake to the message board for a quick reminder or fun decoration. You can even change photos often without the worry of removing picture frame backings or having to cut the photo to fit a particular sized frame.
This project can easily be completed in a couple of hours, takes little effort (and supplies), and is very budget-friendly!