UPDATE: This event is being rescheduled. When a new date is available, I will update everyone with a new post. Thank you!
Hello blogger friends! I am hosting a fun meetup next month, and I hope that you will join me. It will take place on Thursday, September 1 at 6:30pm.
This will be the first NCBN Triad Blogger Meetup of 2016, and my first meetup hosting as NC Blogger Network's Triad Ambassador.
The event will be held at the newly re-branded Wolfgang Puck Kitchen + Bar at Friendly Center in Greensboro. Enjoy an evening of socializing, free appetizers and a drink special* (complements of the restaurant), and the chance to win a door prize.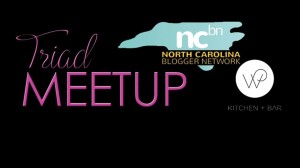 During our event you'll get to mingle and network with area bloggers and their influential friends, gain insight about the NC Blogger Network (if you aren't already a member) and learn who is blogging practically in your own backyard.
The meetup is open to all members, non members, and bloggers in general. Seating is limited, so be sure to grab your tickets early, and please bring a friend! Click here to RSVP.
*You will be responsible for purchasing your own drinks and any additional food.