Has this ever happened to you? You've managed to make it to the week of your next payday. You think you have just enough money left in your account to get by until Friday… and then you remember that a coworker's birthday is Thursday, and you've committed to bringing cupcakes. You opt to buy grocery store cupcakes because they're cheaper than the local bakery but while you're in the store, you pick up a couple of frozen meals because they're on sale. Your small bank account just got smaller, but it's Wednesday and you'll be fine. And then, when you arrive home, the air conditioning isn't work. You check your saving account, only to remember that you used $250 last month for a last-minute vacation and you barely have $120 remaining. You can't be without air conditioning – it's 94-degrees outside! – so when you call for a service appointment, you ask if they take credit. It's your only option.
So maybe that scenario is a bit extreme. It may not happen often, but it certainly happens. We fail to plan appropriately, or we think that using our savings will be okay because we can rebuild it in the upcoming months. Not following a budget can really put us in a bind.
Did you know that more than half of people in the United States live paycheck-to-paycheck? That means over 50% of us are at risk of experiencing the above scenario at any given time. Scary, isn't it?
I want to introduce you to a great tool that helps me stay on budget. It was created by Dave Ramsey, a financial guru whose methods have proven affective for nearly everyone who has followed them. It is very user friendly, and best of all… FREE!
Meet EveryDollar®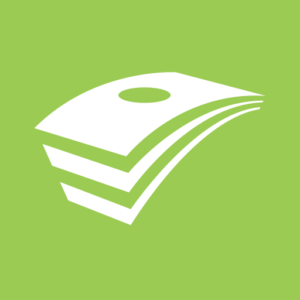 EveryDollar.com is a website that tracks your monthly income, projected expenses, and actual money spent in order to give every dollar a name. In other words, you make every dollar count. This method is what Dave calls based on zero-based budgeting. If every dollar has a purpose, then we can start to gain control of every dollar that we spend. It may seem like a silly idea at first, but once you use this method for a couple of months, you will see just how much control you have over how much you spend, and what you spend it on!
When you first register with EveryDollar.com, you will be asked to create a username and password. You'll also be asked to answer a few simple questions to establish your account. You will be given the option to upgrade your membership from FREE to EveryDollar Plus. This is a $99 service that includes the option to link to your bank accounts and credit cards. That way, your data is automatically entered instead of you having to enter each cost yourself. There is a free 15-day trial but I haven't upgraded yet. The free membership works for me. Here is a comparison of what you receive with each membership.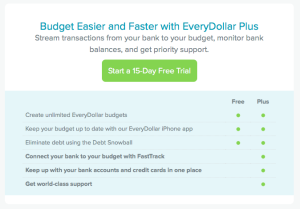 Once you have registered, you can begin using EveryDollar.com immediately. Select the month that you're budgeting, then follow the prompts to enter your monthly salary (what your actual take-home pay is) and the expenses that you know are monthly, i.e.; mortgage, insurance, car payment, etc.


Once you have entered all of your expected expenses, don't forget to consider overlooked expenses. Birthdays, doctor appointments, pest control, and gym memberships are just a few of the things we frequently do not consider when planning a monthly budget.
As you enter expenses, you will notice that the website will keep count of your balance for you. It will be just below your income tab, listed as $ Left To Budget.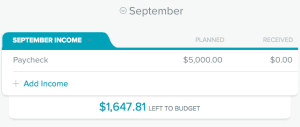 Your goal is to get this to $0… which means you are making every dollar count. When you've succeeded, you'll get a green checkmark like this:

You will also have a breakdown of expenses by category, so that you can make sure you're not spending too  much money in one place. I love this feature so that I can stay on track with the budgeting percentage plan that Dave's daughter, Rachel Cruze, shared on her website about two years ago.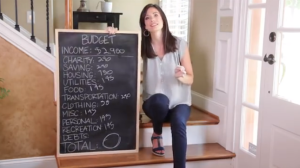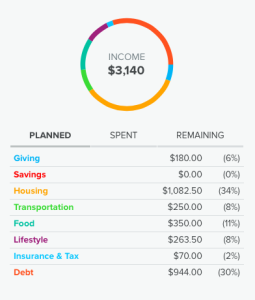 Once all of your planned monthly expenses have been entered, you can use EveryDollar.com or the available smartphone app to track your actual expenses. The budget tool will maintain transactions throughout each month.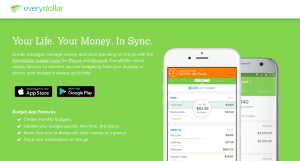 In addition to the tool giving you control over every dollar each month, Ramsey has created another feature within EveryDollar.com that is great for planning ahead… Debt-Free Baby Steps. The baby steps are listed in overview, with additional information and helpful tips to focus on and achieving each goal. The first step is a $1000 Emergency Fund.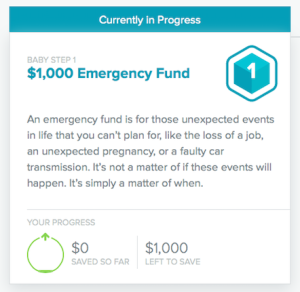 You'll notice that the Emergency Fund tab is part of your planned monthly expenses. Be sure to put back money each month, in whatever amount that you can, to work toward this first baby step. Once you have saved $1000, you can reallocate the money that you were using toward that goal to your second baby step.
Baby Step Two is taking control of your Debt Snowball. Check out Dave's website to learn his recommendations for knocking out debt. This isn't something that will happen overnight, so go into this stage with patience and perserverance. It will be so rewarding when you finally complete this step and move onto Baby Step Three.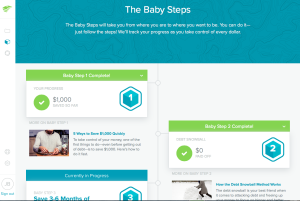 I sit down at the end of every month and use this website to make sure things are in order for the next month. I love the feeling of control when it comes to my money. I use the smartphone app to enter transactions in real time (something I haven't been doing since banking went online and I stopped using a check registry years ago) so that I can truly account for every dollar that I spend. Most of all, I love knowing that I have an emergency fund, have control of my debt, and am working toward completing Baby Step Three.
Although I have cut back on buying things that I don't necessarily need, I haven't stopped buying things. I have been able to take vacations that were already paid for, pay cash for Christmas gifts for my family, and occasionally treat myself to massages and pedicures. If you'd like to stop living paycheck-to-paycheck, and gain control over every dollar that you make, I highly recommend EveryDollar.com.
"A budget is telling your money where to go instead of wondering where it went."
― Dave Ramsey
I was not compensated for this post, and it contains no affiliate links. All opinions are my own and not influenced in any way.