I'm staring a new series on my blog called #MotivationMonday. On the first Monday of each month, I'll share some words of encouragement or a helpful hint that will hopefully help us (myself included) prepare for the next 30-ish days ahead. This Motivation Monday is extra-special. Not only is today the first Monday of the month… but it's our first Monday of 2016.
New Year's Resolutions often go hand-in-hand with health and fitness. The start of a new year seems like the perfect time to commit to losing weight, to staying fit, or to stop smoking. If you've declared a health resolution, your goals may already seem overwhelming today. Maybe you've set the bar too high, or just simply don't know where to start. I understand. Let me share my juicing experience with you…
I have been curious about juicing for two years. A friend of mine introduced me to the idea while we were training for a 5K in December 2013. I often made comments about how sluggish I would feel during the run based on what I had eaten throughout the day. She told me to watch Fat, Sick & Nearly Dead. (It's a documentary about a 310lb man and his 60-day juicing journey.) I have to admit, it took me a while to watch it. Then it took me a while to process the thought of a 60-day all-juice lifestyle. I didn't care how fat, sick, and nearly dead that I felt… 60 days seemed like a long time to commit to the change in my diet. Nearly a year later, in anticipation of my New Year's Resolution for 2015, I started researching "how to juice"and learning about all that goes into it. Did you know that juicers can range upward to $500 depending on the model and brand? Yikes! If it was going to take 60-days, $500, and a lot of time to juice, I'd pass!
It wasn't until I stumbled on an article on Women's Health magazine online that I realized juicing doesn't have to be an all-or-nothing condition. There are ways to ease into juicing. The article suggested having a breakfast juice with a handful of almonds a couple of times a week instead of the usual cereal or yogurt. This helps juicing become a part of a normal routine, which in turn would hopefully prevent falling off the juicing wagon.
Organic raw juice bars are becoming more common. We recently had one open here in my little corner of NC. If you're interested in juicing, I highly recommend searching your town for one. It's a perfect way to try out juicing without investing a lot of time and money into it. Local juice bars also specialize in the right combinations of fruits and vegetable to ensure a great flavor of juice every time. Fresh juice is very alkalizing and detoxifying, and is beneficial without having to go on an extreme cleanse. The best part? Juicing is an easy way to focus on adding fresh fruits and vegetables to your diet. The more you good food that you add, the less room there is for the bad.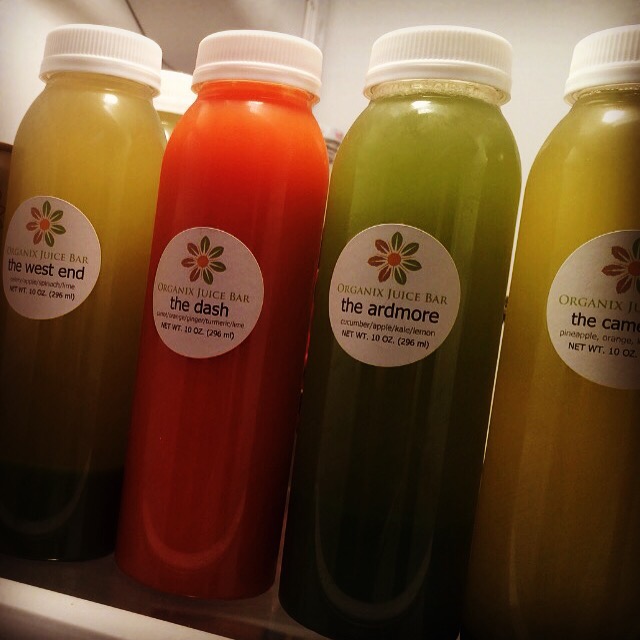 So how does my rambling about juices motivate you? I'm hoping it will remind you to:
…not be intimidated by other people's journey. Allow their story to encourage you, but adapt your journey to your own goals. Be on a mission to live your life, not theirs!
…not procrastinate. The worst thing you can do when you're overwhelmed is delay your journey for more than a day. Don't wait a year to seek opportunities. Where there's a will, there's a way!
…ask for assistance. If you want to try something but aren't sure where to start, research to see if someone is already doing what you're interested in doing. For those of you who have always wanted to try a 5K but aren't sure how to start training, there are running groups in many towns. Consider support groups to help with smoking cessation. Reach out to the community for help!
…ease into change. Don't feel like you have to jump in feet first with no reservation. If you're new to exercising, commit to walking twice a week. Want to stop drinking soda? Try adding one extra glass of water to your day until that becomes normal, then add more!
New Year's Resolutions often fail because expectations are unrealistic. Don't be a statistic this year. No matter what your goals are for 2016, even if they're not health-related, know that they are attainable. Stay focused on your journey. Keep a steady pace toward your goals. Don't try to get from A to Z without adding in the other letters. And lean on your community to help. This is just the beginning. You've got this!