My brother and sister-in-law recently gave me this Joie Veggie Spaghetti. I have been debating on purchasing a zucchini noodle maker for quite some time, but couldn't decide which option to buy. There are so many! I'm glad that I waited because I love the option that they chose for me.
At first glance, it seems too simple. Will this small kitchen utensil really do the trick? To my surprise, it really is a great little tool. I love that it is compact, and I can toss it into a drawer with my other kitchen gadgets. I also love that it is safe; the blade is encased so it's virtually impossible to cut yourself. The Veggie Spaghetti also requires little cleanup. And it's so easy to use!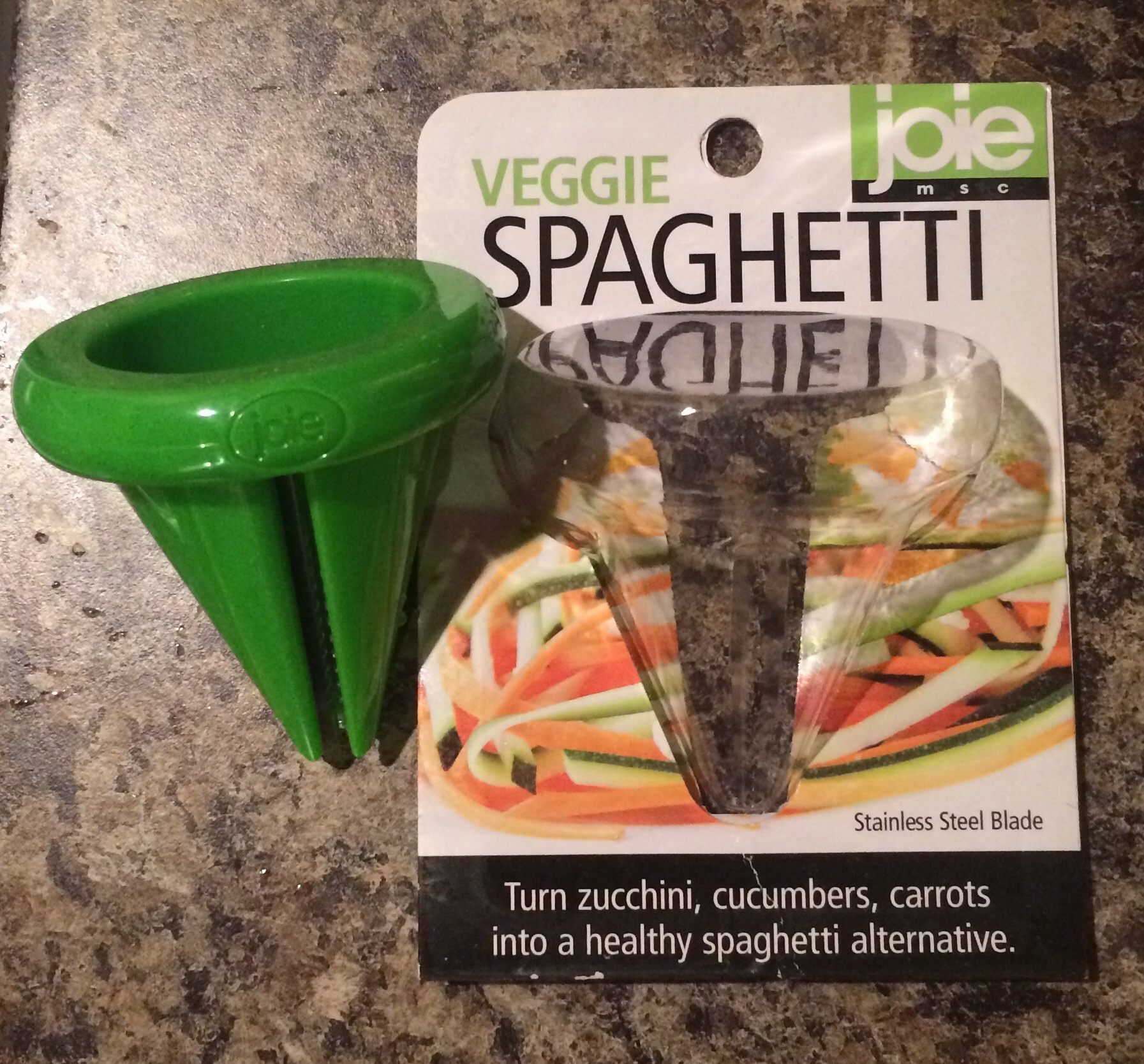 Although I've been out of college longer than I care to admit, the single-girl-cooking-for-one in me often reverts back to quick and easy meals for dinner most nights. I love to cook, but it is hard for me to justify the time and effort involved in preparing a large meal on a regular basis when I'm the only one eating it. And let's not even talk about cleanup. Washing dishes has to be my least favorite chore!
It isn't quite as easy to eat like a college kid these days. I have dietary restrictions now that prevent me from opening up the discounted, processed, canned pasta and meat concoctions that I practically lived on back then. I watch sodium intake, avoid gluten and dairy, and aim to eat as organic as possible. Plus, my taste has changed.
The Veggie Spaghetti made dinner prep extremely easy. I was able to make this delicious and satisfying meal in a matter of minutes. I wanted to share this simple recipe with you, so that you can see just how effortless it is to make healthier choices when it comes to eating!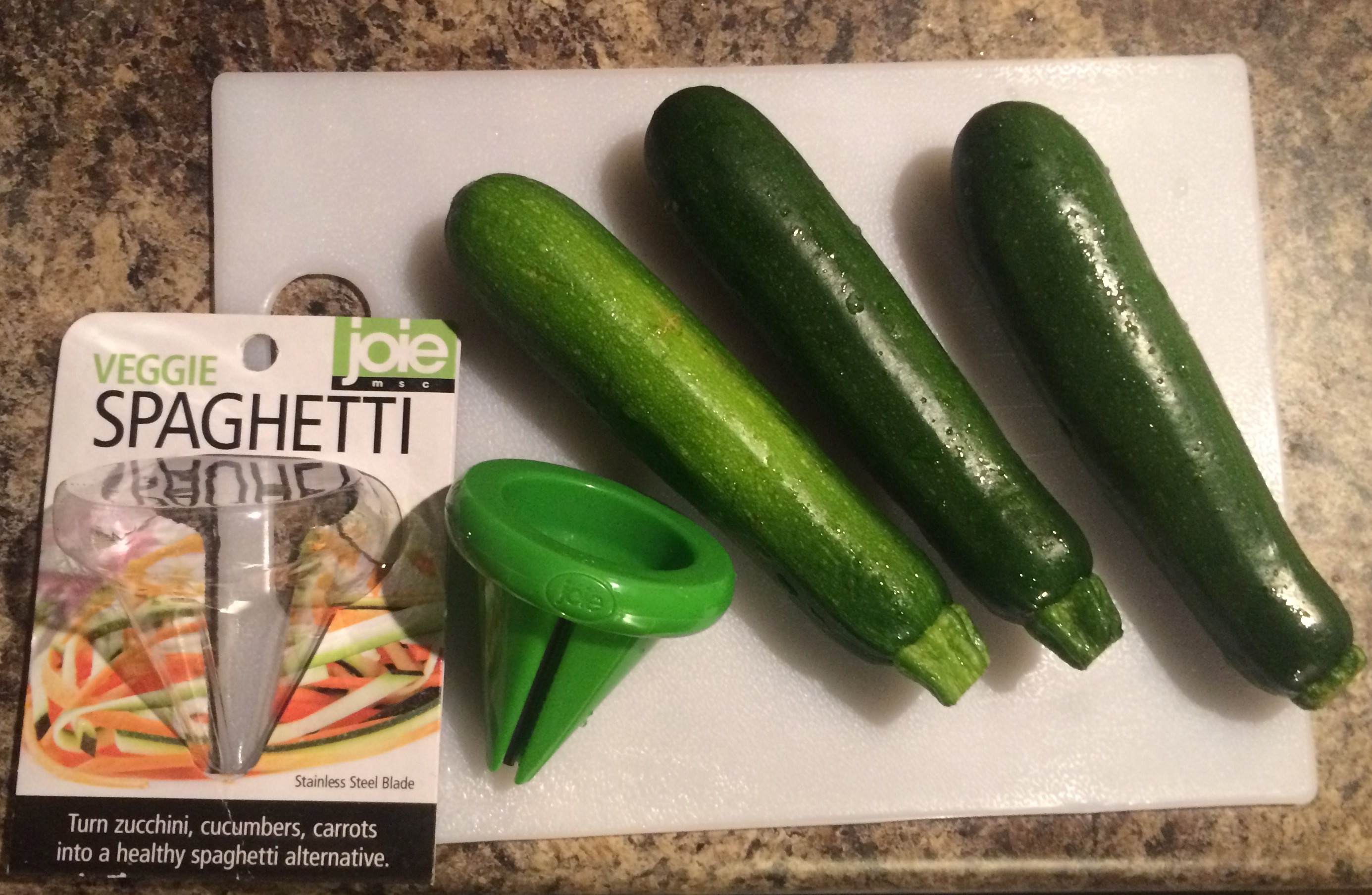 I started with my Veggie Spaghetti and three small zucchini. I washed the zucchini, cut the stalk off of each, and inserted them – one at a time – into the gadget and twisted. It took less force to turn the zucchini than it does to open a twist-top bottle, so if you can do that… you can use the Veggie Spaghetti!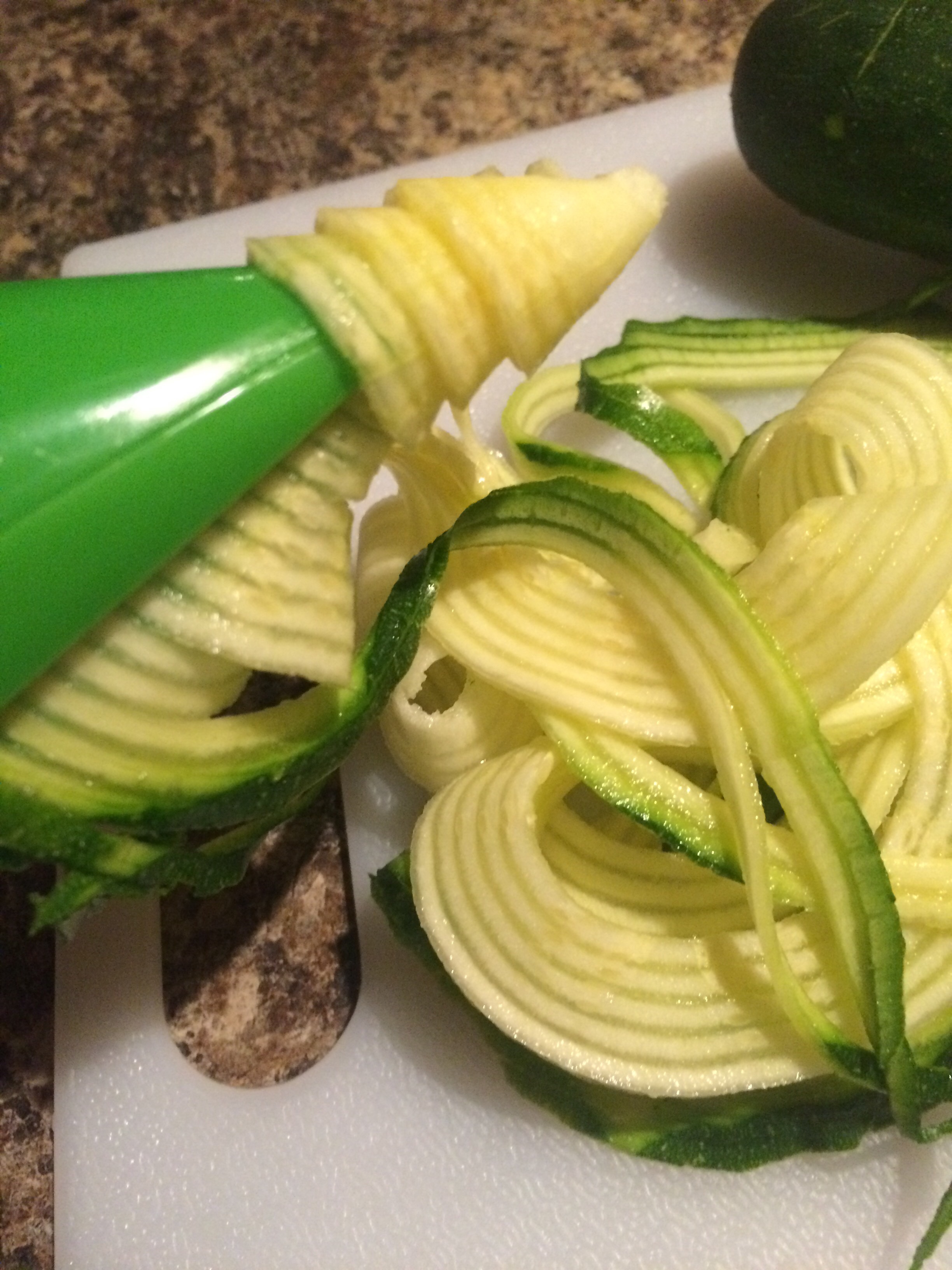 There were two small downfalls with this product. The first? If you do not trim the noodles as you go, the end will create a spiral cap that will eventually prevent the zucchini from turning any further. TIP: After a couple of turns, take a knife and trim the noodles from the Veggie Spaghetti. This will prevent the build up, and will give you the perfect noodle length.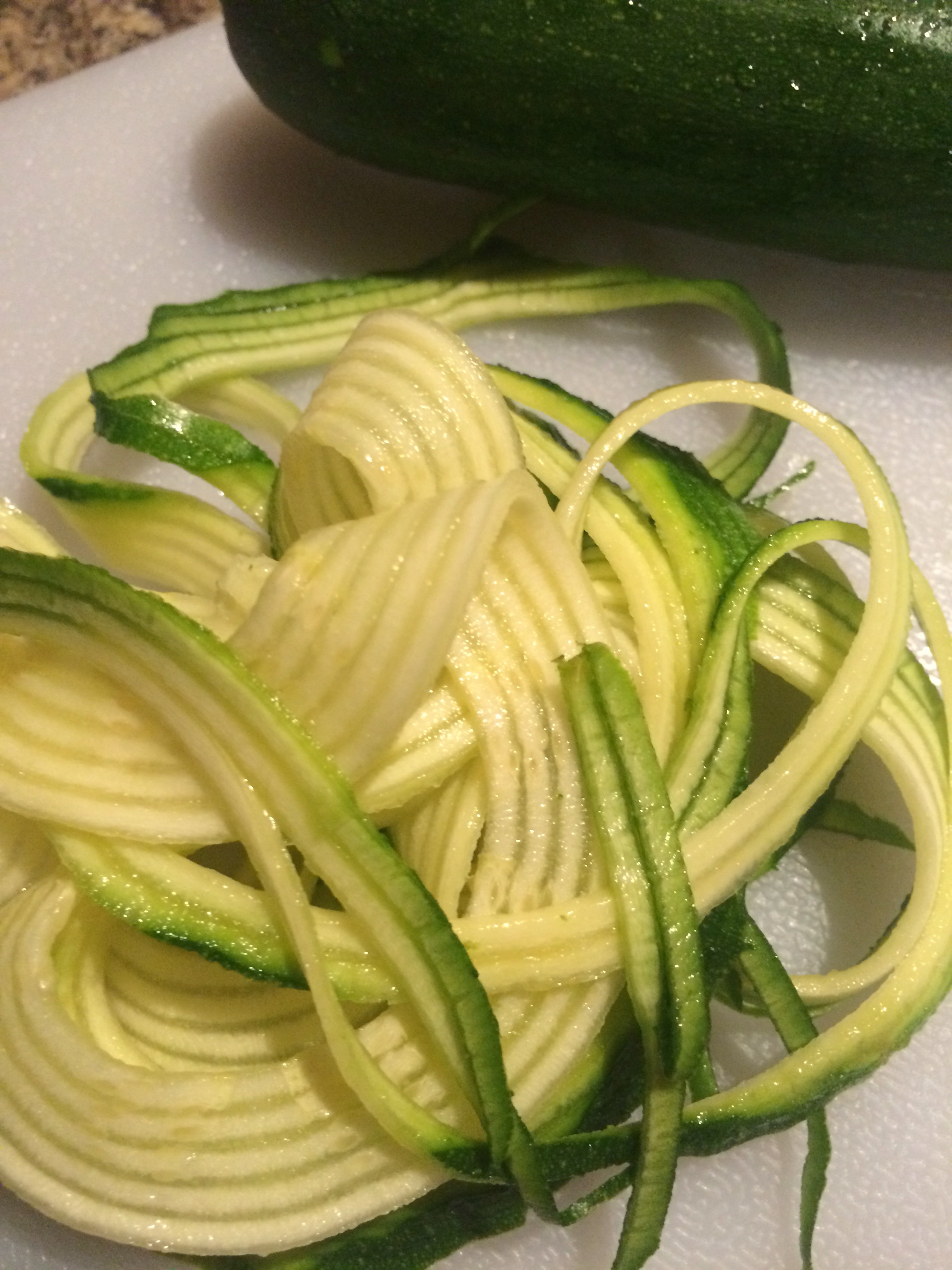 When you're finished, you'll end up with a pile of zucchini like this! When you pick the zucchini up, it will begin to fall apart into individual noodles. You may have to peel a few of the noodles into individual strands, but it does not take long to separate them. I was very impressed with the precession of the cuts made by the Veggie Spaghetti.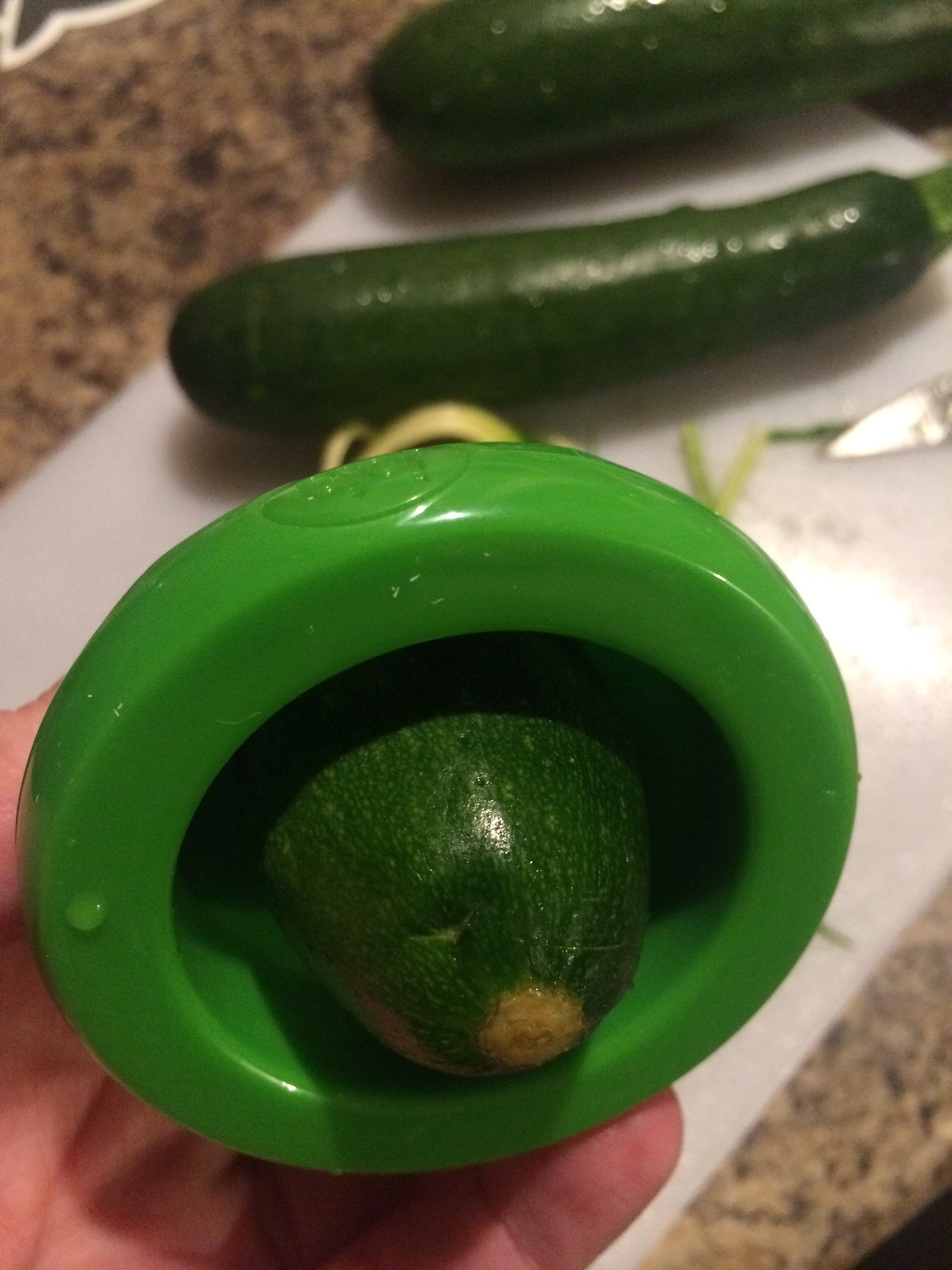 Downfall number two, for me… I couldn't twist the zucchini past this point. Perhaps that is a safety feature? It certainly prevents your fingers from getting close to the blades. I have seen other kitchen gadgets that come with an attachment that would stick into the zucchini and allow for a few more twists. There may be a way to alter this one (I guess I could have tried a fork?) but I'm not sure that anything will actually work. This small snafu results in some unused veggies. For some, this may not be a problem at all. For others, like myself, I don't want to waste anything!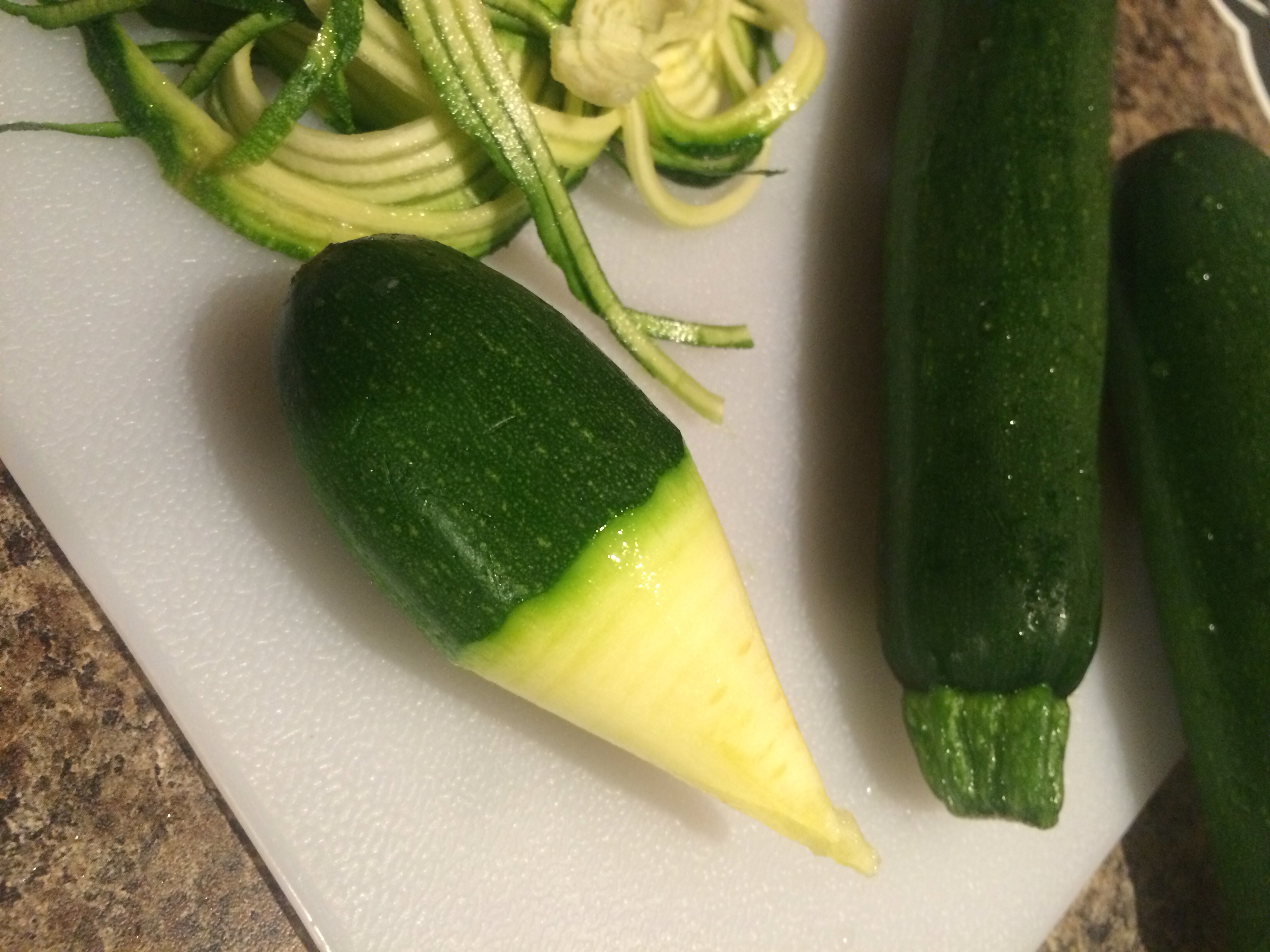 Once your zucchini noodles are cut and separated (even if you use something other than the Veggie Spaghetti), did you know that cooking the noodles is as simple as steaming them? That can be done on the stovetop or in the microwave!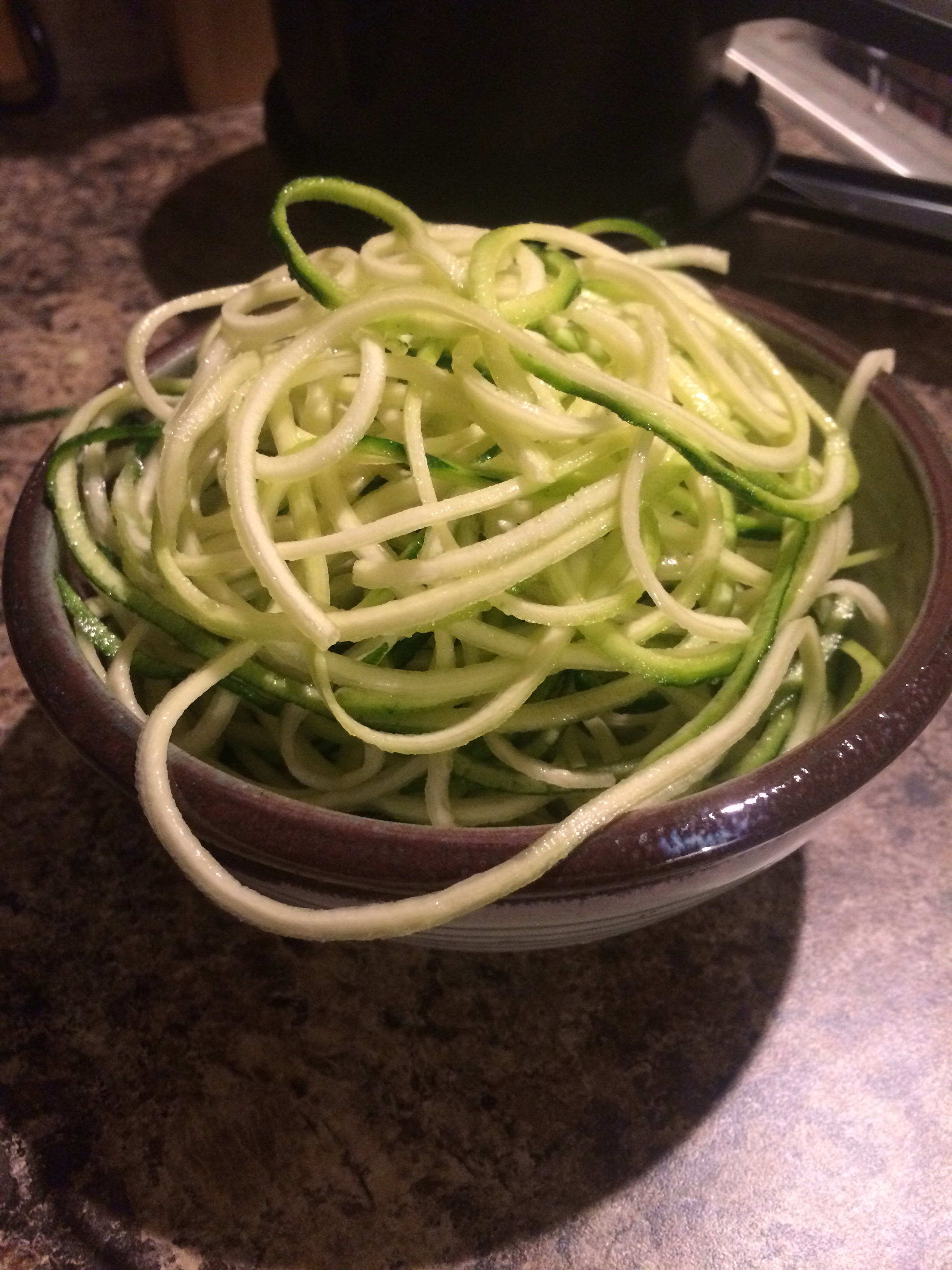 This is a yummy-looking bowl of zucchini noodles, isn't it?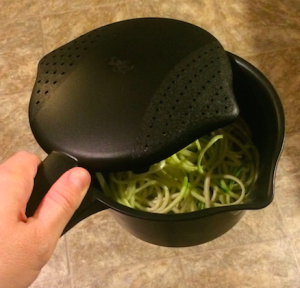 How do you steam your veggies? I have this Pampered Chef Small Micro-Cooker that I use for steaming anything from frozen broccoli to these zucchini noodles. I just popped them in the microwave for two minutes and they came out completely cooked. I do want to mention that it is not necessary to add water to the zucchini when steaming in the microwave. There is enough water in the veggie itself to handle the two minute steam. What I also want to recommend is that after you remove the zucchini noodles from the steamer, place them in a colander and allow them to drain while you prep the rest of your meal. If you skip this step, you may end up with some watery pasta sauce in the end.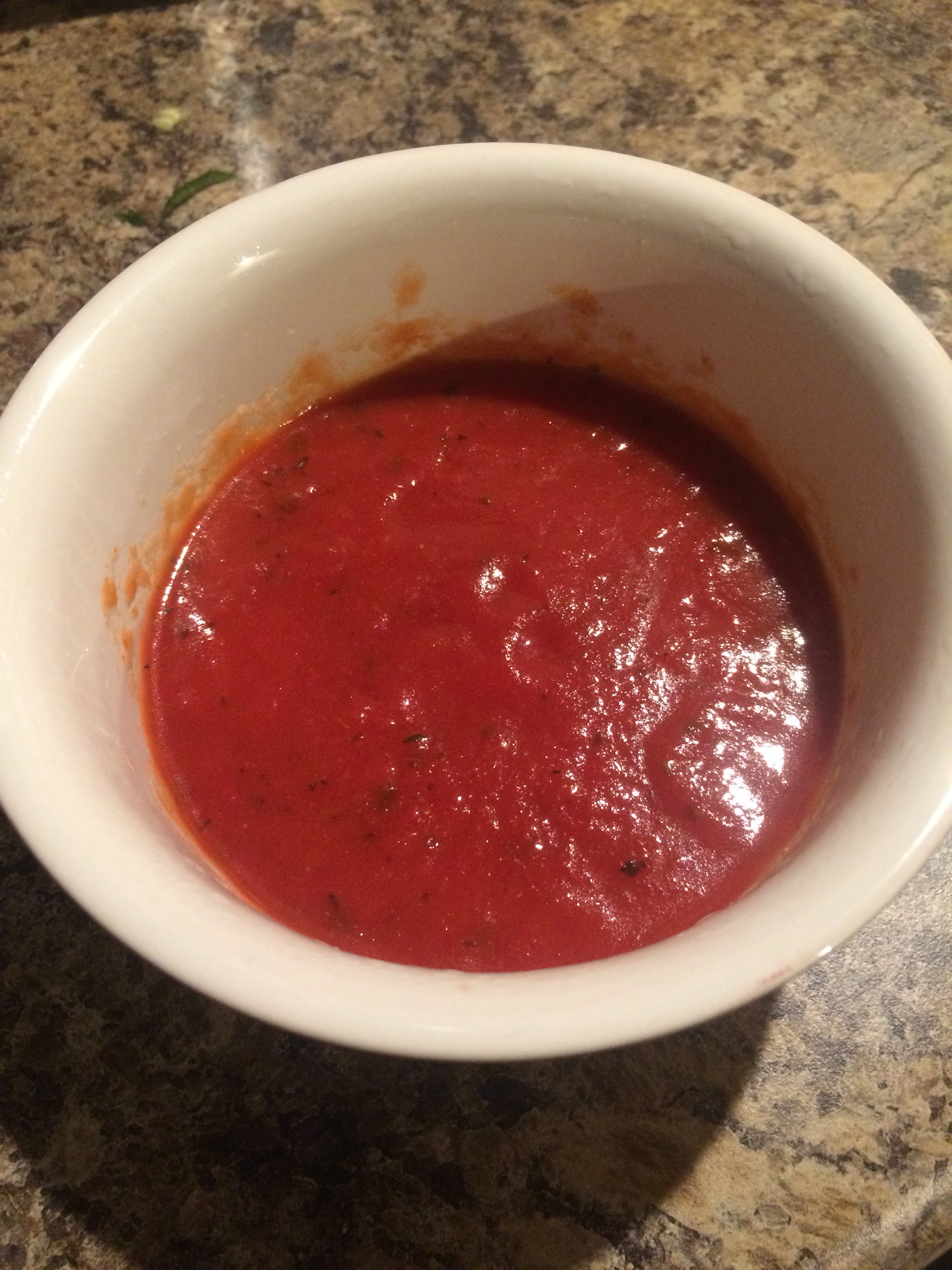 Since I am always looking for the quick and convenient route in cooking, I do not make my own pasta sauce. Many of my friends do, but I stick to a jar of organic pasta sauce from my local grocery store. I always check the label to make sure there are less than seven ingredients, that it is low in sodium, and that it is gluten and dairy free. If you do not have dietary restrictions and are just looking for a quick meal… use any pasta sauce that you'd like. You could even grab an alfredo sauce if you prefer! [I heated a small amount of my pre-made sauce in the microwave, and then poured it on top of my steamed and drained zucchini noodles.]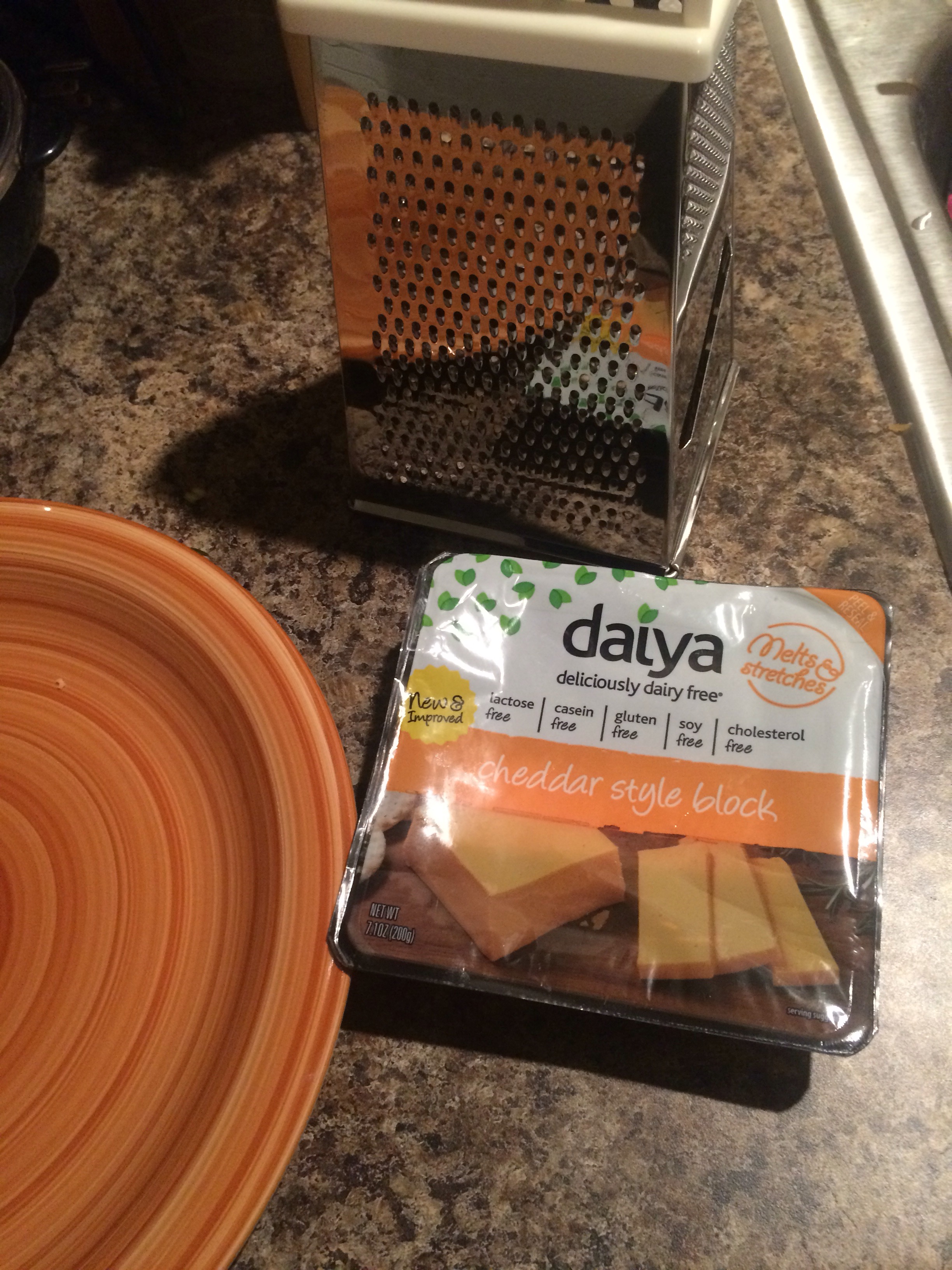 Since I have a dairy allergy, I use Daiya brand cheese. I have found that this cheddar block-style cheese is great for shredding.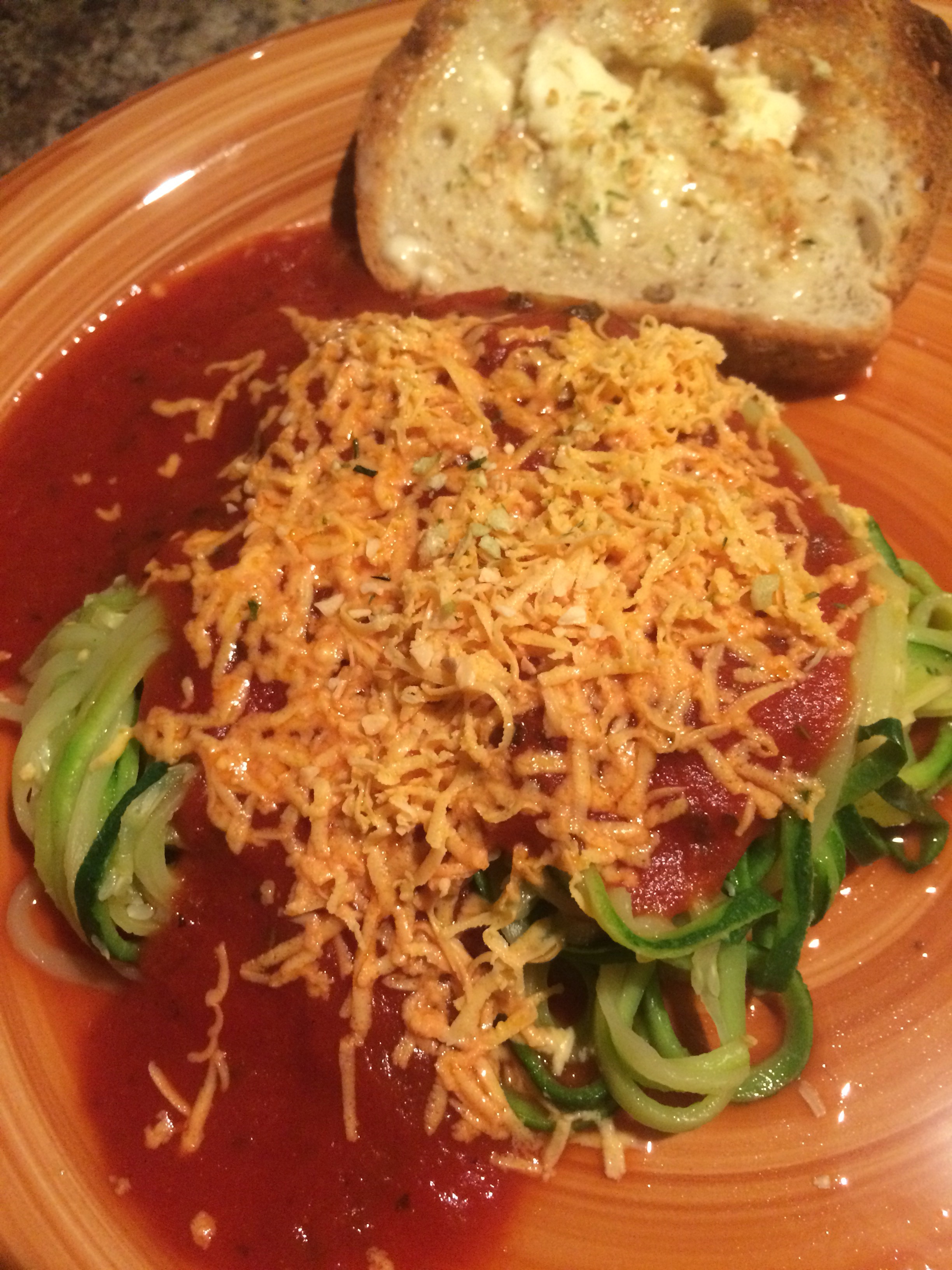 I grabbed a slice of my favorite gluten free bread and toasted it. While it was toasting, I softened a tablespoon of nondairy butter and added minced garlic to it. When the toast was finished, I spread the garlic butter on top to complete my meal. From start to finish, this took less than 30 minutes to make. I believe now that I know how to use my Veggie Spaghetti tool, this could easily be a 15-minute meal.
If you have a little more time on your hands, you can do so much with this meal. Need more subsistence? Brown ground turkey or extra-lean beef and add it to your pasta sauce. Want chicken fettuccine? Add grilled chicken breast (or strips of rotisserie chicken) to alfredo sauce. Be creative! Healthy doesn't have to be boring.