I have friends who have used Stitch Fix for years; some who have been subscribers since the launch of the service in 2011. I have enjoyed hearing about their experiences, reading their blogs on their latest fix, and watching their unboxing videos. I never had the desire to participate, though… until recently.
There are a couple of reasons why I decided to finally give it a try. Since my reasons are probably pretty far-fetched in comparison to the majority of Stitch Fix subscribers, I thought I would give you a quick insight before I reveal today's package.
I like to think that I am fashionable, but the truth is — I struggle with fashion. I blame it partially on this "turning 40″ thing that is happening soon. (I'm starting to blame a lot of things on it, actually. haha) I love fashion, but fashion doesn't always love me. I see a cute outfit on Pinterest and I attempt to replicate it, only to find that my body type just isn't compatible with the clothing style. It reminds me of all the years I took hair photos to my stylist and – every time – she would tell me that the cut was for someone with straight, thick hair… and that the same cut on my thin, curly hair would not produce the same look. Most cute, fashionable outfits simply do not produce the same look on me.
I'm tall (5'10") and long-waisted. My legs are actually an average length. I am also about 20lbs overweight. I am most annoyed by my belly. It seems to be where most of the extra weight is stored. Sometimes it's a struggle to find the right sizes and cuts. I feel like I often settle for clothes, particularly dress clothes for work, and I get stuck in a certain look that isn't necessarily the best for me.
I'm not a fan of shopping. I loathe having to try on clothes in a dressing room. When I do shop, I typically have an agenda… I'm looking for one particular piece to pair with something I already own. The thought of shopping just to browse is a bit daunting to me.
And y'all know that I'm a self-proclaimed Budget Queen. I am so frugal. If I buy one article of clothing, I pull a similar piece from my closet to sale or donate. I only allow an extremely small amount into my budget for clothing. I don't shop often, and when I do… I shop thrift stores and consignment shops first. It has to be on sale, and it has to be a needed item.
All of that said, the four reasons I finally subscribed to Stitch Fix are:
I am hoping their stylists can recommend the appropriate cut/style/look for me.
I want to see if Stitch Fix caters to someone with my body shape/size.
The clothes come straight to my door and I have a few days to try them on at my leisure.
I want to see if the clothing offered is affordable and well-made.
A quick rundown of how Stitch Fix works:
Create an account and fill out a questionnaire.
The subscription is $20/month and that fee is deducted from your total, should you decide to keep any or all items delivered in your monthly fix.
You receive a box with five custom-selected pieces.
Try them on at your leisure (you have three days to make your decision) and send back the ones you don't want to keep in a postage-paid envelope.
Simple enough, right?
So… on to my first fix! I'm sorry this isn't as entertaining as other Stitch Fix reveals. I wanted to get this blog posted quickly, so I didn't have time to edit a video or even slap on some makeup to be presentable in photos. I'll do better next time.
I purposefully did not give my stylist any suggestions aside from the basic questionnaire at registration. I wanted to see just how in-tuned the stylists are before I even created my Pinterest board with suggestions. I was vague… and Cindy nailed it!
A few days before the fix shipped, I learned that I could download the Stitch Fix app and preview what was on its way to me. A lot of folks wait until their package arrives to see what was selected for them. I, however, don't like surprises. When I saw the items that were selected for me, I was impressed. Cindy did a great job… and I got even more excited about getting my fix and seeing the clothes in person.
What I was a bit disappointed in was the price. At registration, I selected "The cheaper the better" option, hoping I would get some discounted items. However, the average Stitch Fix items seem to be in the $50 range. That is very high for my general budget. I was leery as to if I would even purchase anything, or even use the service again, but I decided to wait until the package came to make my decision. Especially since I also wasn't convinced that I would fit into the clothes. [Stitch Fix sizes range from 0-14 and XS –XL. I am on the upper end of that scale, and sometimes 14s aren't the best fit depending on the cut of the clothing. I'm a generally apprehensive person anyway.]
In my first Stitch Fix box, I found:
Daniel Rainn Ginnie Lace Trim Knit Top $58 XL
Loveappella Liette Embroidery Detail Knit Top $48 XL
Gilli Kimberly Maxi Dress $64 XL
Margaret M Christiana Textured Pencil Skirt $78 XL
Romolo Lea Leaf Collar Necklace $28
The total price of all items minus the discount ($69) and the monthly fee ($20) is $187
My decision:
Lace Trim Top – I love it. The fit. The feel. The pattern. The versatility. LOVE. I'm not a fan of the price, but when I deduct the $20 I've already spent (and won't be refunded) then the top will be $38. That is still way more than I would typically spend on tank top but I really do love it. I can wear it with shorts for a casual look in the summer, or pair it with black dress pants, heels, and a blazer for work. I'm going to keep it.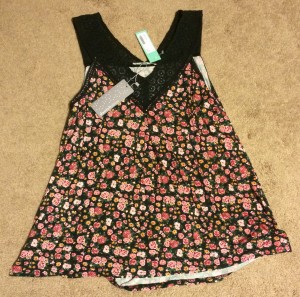 Embroidery Knit Top – It is a pretty top, but the fit was a bit snug for me… and the design was a bit plain. I couldn't see wearing this to work so I'm going to return it.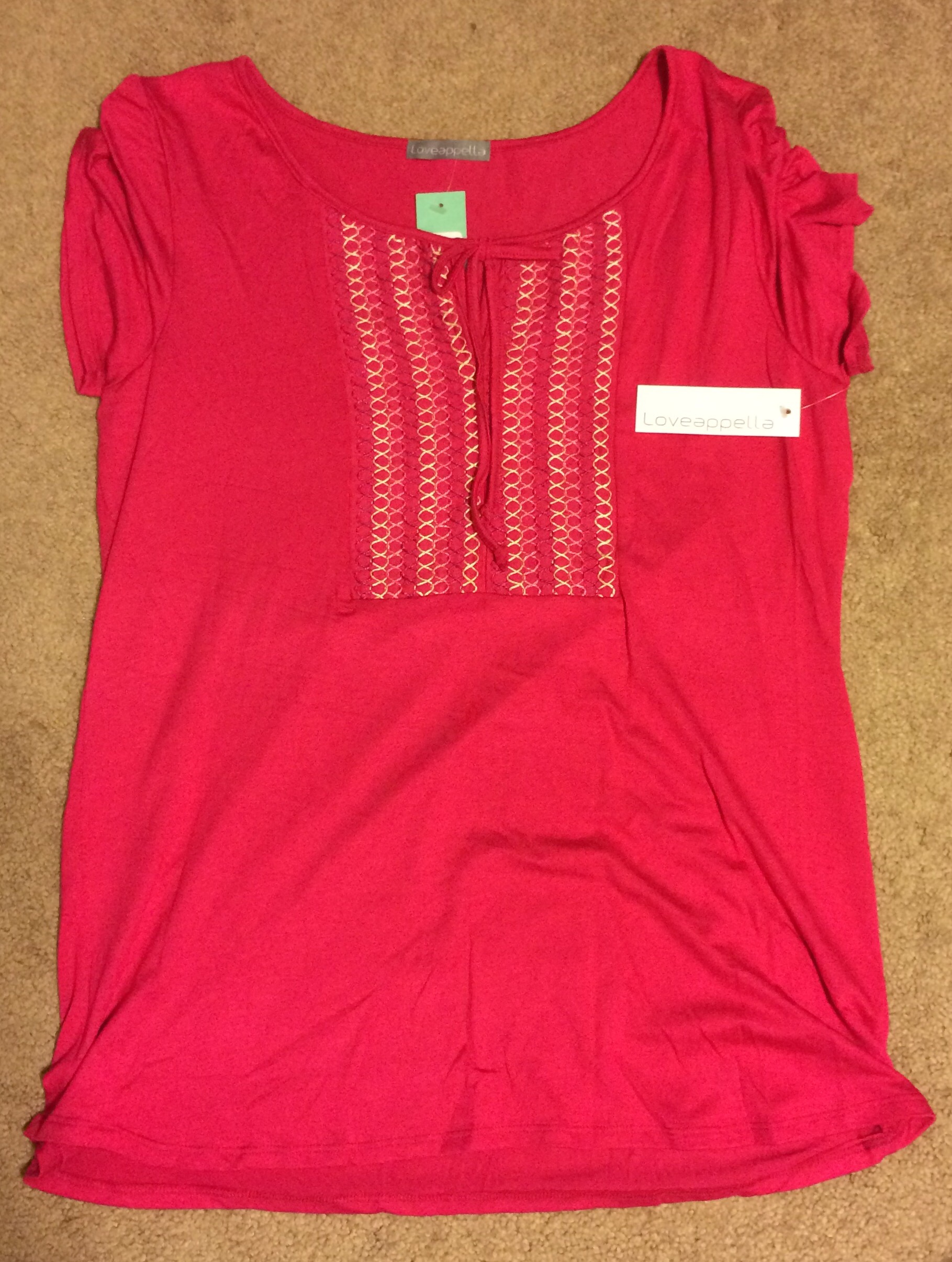 Maxi Dress – I love the fit of this dress! It was comfortable and slimming. I considered keeping it, but there was something about the hemline that bothered me. If it didn't have the asymmetrical bottom, I probably would have kept it. At $64, I decided to return it.


Pencil Skirt – I was surprised at how comfortable this skirt was. I liked the color/texture and length… but it was a bit too snug for me. It really accentuated my curves, particularly those in the rear, and I didn't feel like that would be appropriate for work. I also couldn't fathom paying $78 for a skirt. I'm going to return it.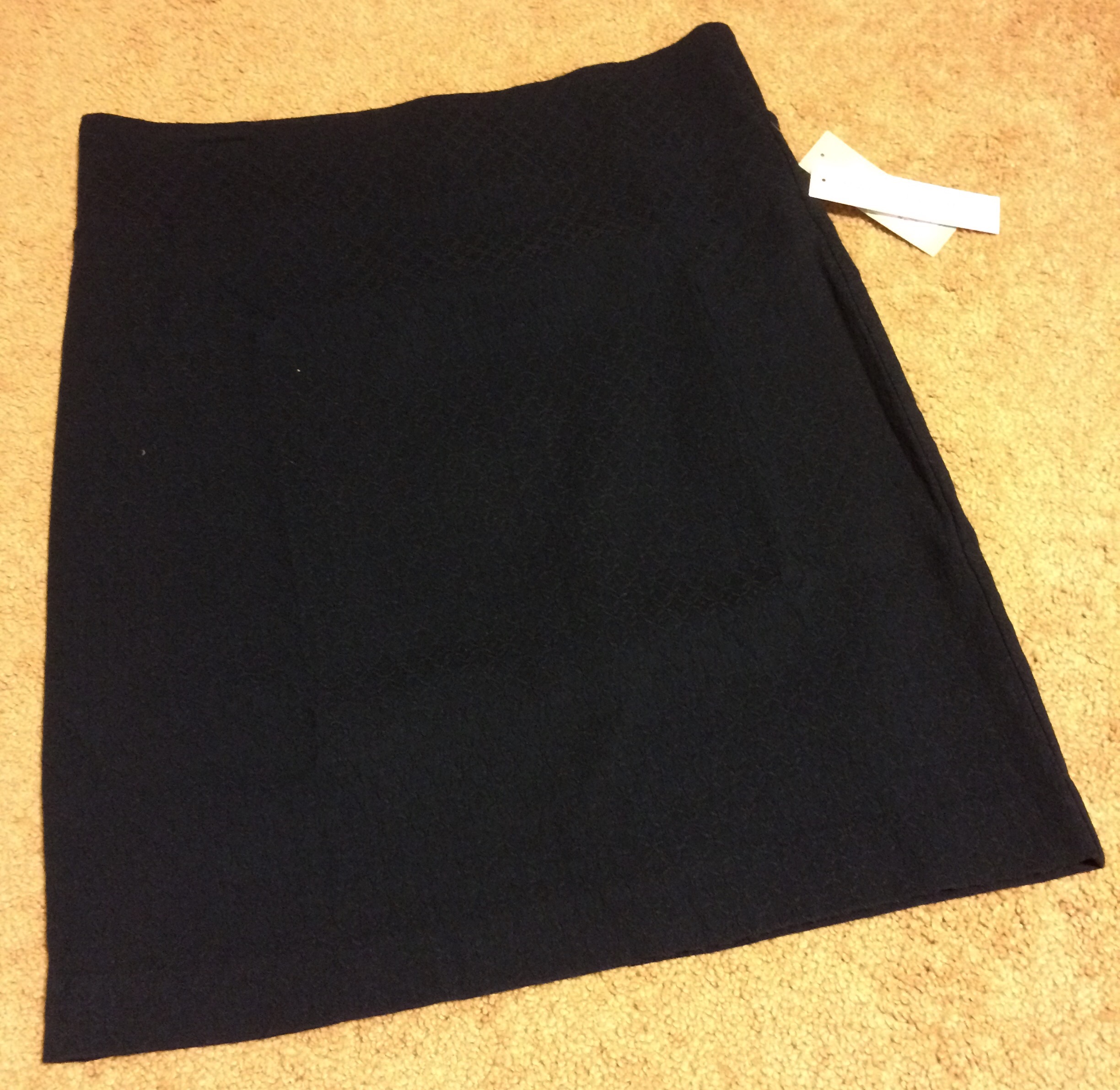 Necklace – I thought the necklace was adorable, but between the length (too short) and color (I have a couple gold ones already) I decided to return it.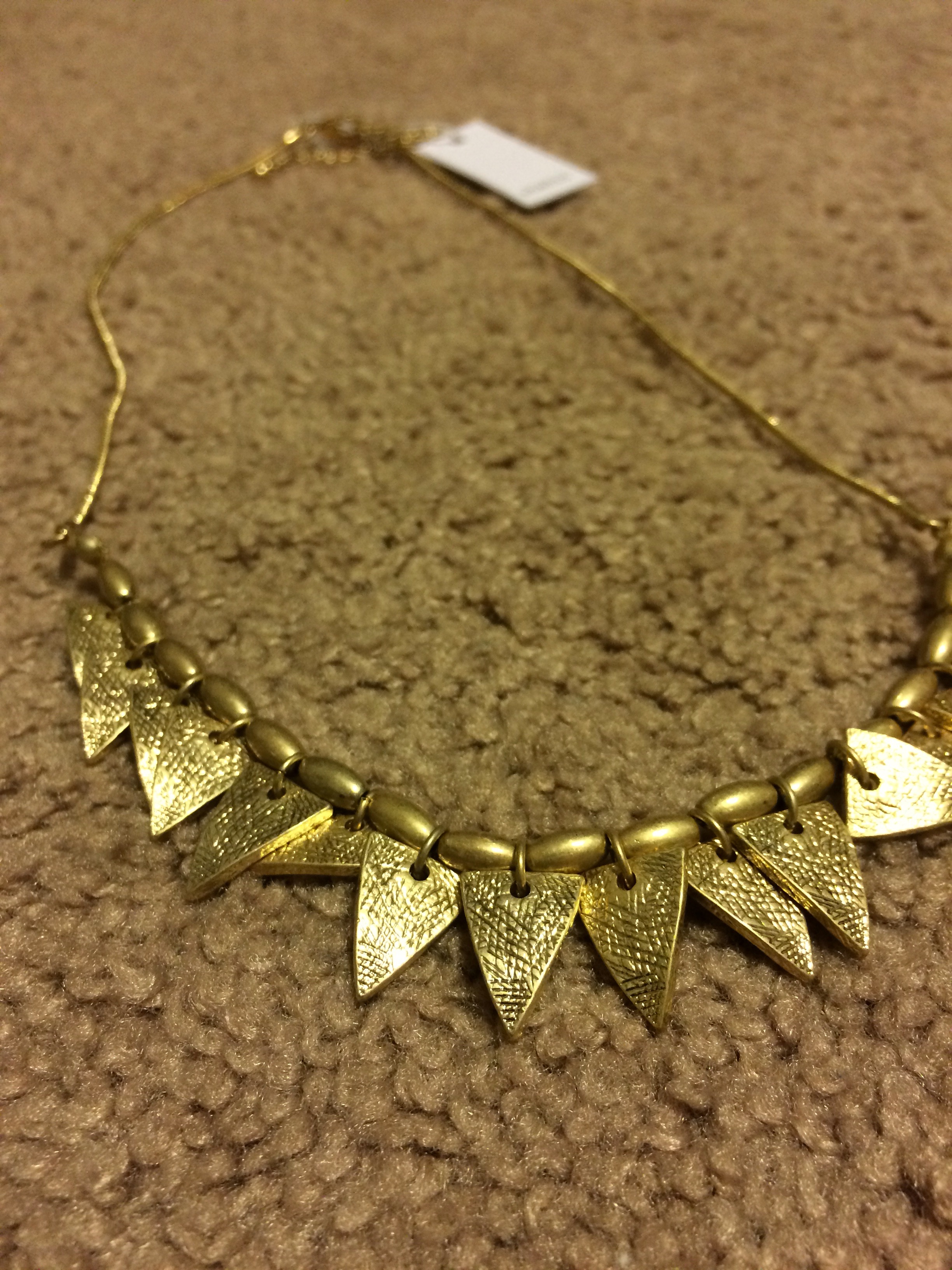 Since Cindy did such a fantastic job selecting items for me with little direction, I have decided to give Stitch Fix another try. (That's huge folks… I really thought I would be cancelling my subscription right now!) This time, I have created a Pinterest board at their suggestion, and plan to send back a note with my returns to let my stylist know what I loved about each piece and what I didn't. Although I'm still not a fan of the pricing, I do love the anticipation and convenience that comes along with this service. So be on the lookout for my next Stitch Fix post. Maybe *just maybe* there will be a video too.