Each of you should give what you have decided in your heart to give, not reluctantly or under compulsion, for God loves a cheerful giver. – 2 Corinthians 9:7 (NIV)
I have been blessed with amazing people in my life. People who do things just because. I have been overwhelmed by their generosity, whether I have personally been the recipient or simply a bystander. I like to think that people are genuinely good, and are always a cheerful giver.
I have recently been exposed to a growing population of donors who seem out of character from those I have described above. It has me questioning if a greater part of society now has ulterior motives when charity is involved. For example, I had one guy tell me that he donated because he wanted the recognition. And a girl confessed that she only gives if she gets something like a t-shirt out of it. Charity, to them, is seen as a good deed in which they receive an immediate reward. In their cases, they justify giving for superficial or materialistic reasons. Upon further questioning, they knew very little about the organizations that they contributed to… and they weren't concerned about how their donations were put to use.
Even local businesses seem to want to gain from charity events. My brother has been planning a tweetup to benefit a local food bank. He and I were both shocked at the number of restaurants wanting us to pay to reserve a space. Similar events hosted by my brother have driven large amounts of people into businesses. When he explained that he would bring in new customers, increase sales, and promote the venue in exchange for a small space to hold the charity event, the restaurants still asked for money.
So, I have to ask… does anyone give to support a valid cause? Or more so, does anyone give from the heart, just to give?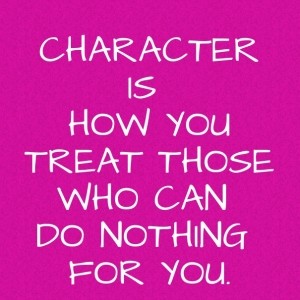 Giving should not just be confined to our debit cards either. There are many ways to give without money being involved. If making a monetary contribution leaves you feeling less-than-cheerful — which in this economy is possible — consider giving in other ways. What makes you happy? If you enjoy cooking, make a little extra and take part of the meal to a local soup kitchen. Are you a shopaholic? Try eliminating an article of clothing for each new piece you purchase, then donate the old clothing to a nearby homeless shelter. Love music or art? Contact area nursing homes to schedule a time to make crafts with or sing songs to the residents. Do you like when someone gives you a compliment? If so, extend a nice comment to a stranger. Even telling someone that you love their outfit (and mean it) is a way to be charitable. Whatever fills your heart with happiness, take the time to share that with others. Giving without expecting anything in return will be more rewarding than expecting a t-shirt.